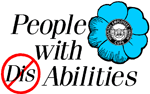 The People with disAbilities Committee is for HEU members who are disabled and working, on long-term disability (LTD) or Workers' Compensation Board (WCB) programs, or who have been on sick leave for a long time.
Disabilities can be physical (i.e. blindness, deafness, loss of limb activity), invisible (i.e. epilepsy, diabetes, AIDS, severe allergies, chronic pain), or mental (i.e. learning, psychiatric, intellectual). Human Rights law also defines drug and alcohol dependence as disabilities.
The committee, which promotes the contributions of workers with disabilities, has produced this 29-page handbook One union, many abilities.
Day of Mourning, April 28, 2015 - PWD colouring contest
HEU's People with disAbilities standing committee (PWD) is sponsoring its fourth annual April 28 National Day of Mourning colouring contest to honour workers injured or killed on the job and those who have died from work-related illnesses. Through this contest, the PWD Standing Committee aims to raise awareness to HEU members and their families about the importance of the International Day of Mourning – April 28.
The PWD committee has chosen the Blue Poppy to represent those workers, and each year promotes awareness of this day by sending Blue Poppy Buttons out to all HEU locals.
Archives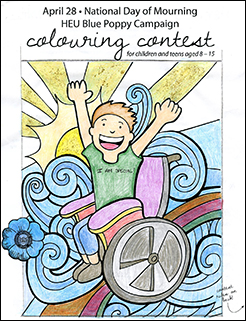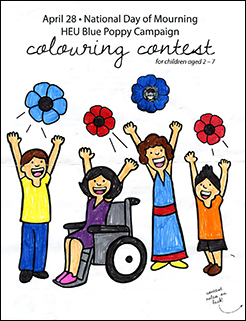 2014 colouring contest winners
ages 8 to 15: first place winner Tristan Coleman of Penticton (HEU member Robert Coleman) won an IPad; second place winner Amrit Kaur Jaswal of Vancouver (HEU member Kuljeet Kaur Jaswal) won an IPad Mini; and runner-up Mackenzie Jones of Skidegate (HEU member Nadine Jones) won an IPod Shuffle; and
ages 2 to 7: first place winner Tyeshia Bailey of Surrey (HEU member Suzi Rothenburger) won an IPod Touch; second place winner Sophia With of Nelson (HEU member Eileen With) won an IPod; and runner-up Liam Erbemish of Revelstoke (HEU member Carolyn Chwyl) won an IPod Shuffle.