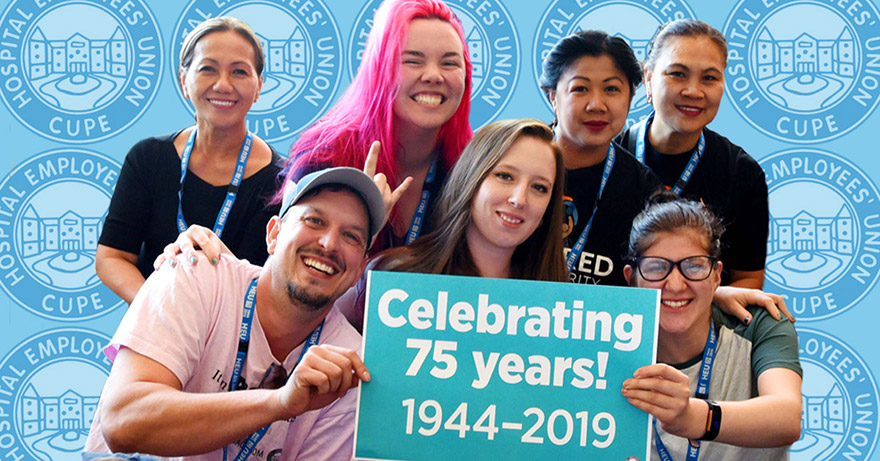 Founded in 1944, today HEU is more than 50,000 members strong. We are a union of workers who care, who truly are the heartbeat of health care.
And we're proud to celebrate 75 years of our union on HEU Day, October 13.
"Let's Party" Download an event poster and/or leaflet to put up or hand out at your worksite.
HEU takes the CAKE! Learn more about the union's cake contest for locals.
To celebrate HEU's strong united health care team, we'll be rolling out special 75th Anniversary items for locals to order. Check back regularly to keep up to date.
HEU's 75th Anniversary T-Shirts
We've got new HEU branded t-shirts featuring our original Local 180 logo in vintage-style metallic gold on either black or white tees.
These are great for giveaways at events, local meetings and HEU Day celebrations.
Order now, quantities and sizes are limited.
Download the order form for Locals.
Swag for locals
We will be making 75th anniversary swag available for locals. Please contact your servicing representative to arrange to receive the materials. We're also preparing a history booklet with plenty of visuals, which will be available for locals later this fall.
JOIN THE SOCIAL MEDIA CELEBRATION OF HEU!
1) Take a photo of HEU members with one or both anniversary posters (link below).
2) Share to your local's social media page or group with #HEU75.
3) Send to members@heu.org so the union can share it too!
Make sure to include who's in the photo and which local they belong to.