Contracting-out protections restored, health and safety gains and new rights secured in tentative agreement
No concessions agreement includes a six per cent general wage increase, improvements to shift premiums, and expanded rights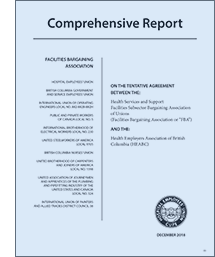 On December 1, a tentative agreement covering 44,000 health care workers was reached between the multi-union Facilities Bargaining Association (FBA) and the Health Employers Association of BC (HEABC).
The three-year agreement includes general wage increases of six per cent, in line with other settlements reached with government employees, community health workers, nurses and health science professionals, under the provincial government's current negotiating mandate for public sector employers.
The agreement includes new language and resources to tackle the high injury rates experienced by FBA members, and it provides workers with more job security protections in the face of health care restructuring – including a restoration of pre-2002 contracting-out protections.
The HEU Provincial Executive has reviewed the agreement and is recommending that members vote "yes" in ratification votes that are being scheduled for later in January.
We will be posting the voting schedule as soon as possible, so please check back to find out when your local votes, or sign up for HEU news and updates.
Download the full Comprehensive Report.
(Note: this document is more than 65 pages long.)
Fact Sheets
Tentative Agreement at a glance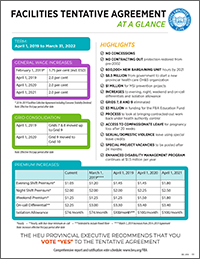 Highlights include:
No concessions
No contracting out
600,000+ new bargaining unit hours
$8.5 million from government to start a new provincial health care OH&S organization
$1 million for MSI prevention projects
Increases to differentials and isolation allowance
Download At a Glance Factsheet
Safe Work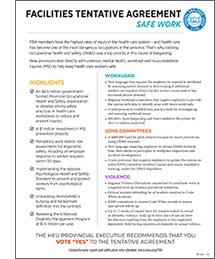 FBA members have the highest rates of injury in the health care system – and health care has become one of the most dangerous occupations in the province. That's why tackling occupational health and safety (OH&S) was a top priority in this round of bargaining.
New provisions deal directly with violence, mental health, workload and musculoskeletal injuries (MSI) to help keep health care workers safe.
Job Security, Stable Workplaces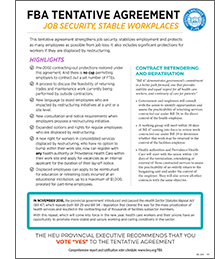 This tentative agreement strengthens job security, stabilizes employment and protects as many employees as possible from job loss. It also includes significant protections for workers if they are displaced by restructuring.
Highlights include:
Pre-2002 contracting-out protections restored under this agreement. And there is no cap permitting employers to contract out a set number of FTEs.
A process to discuss the feasibility of returning trades and maintenance work currently
Download Job Security Factsheet
Expanded Rights & Contract Enforcement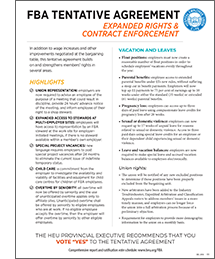 In addition to wage increases and other improvements negotiated at the bargaining table, this tentative agreement builds on and strengthens members' rights in several areas.
Highlights include:
Union representation
Expanded access to stewards at multi-employer sites
Special project vacancies
Child care
Overtime by seniority
Download Expanded Rights Factsheet
---
---