Community workers at Richmond Health Services behind picket lines
Bargaining bulletin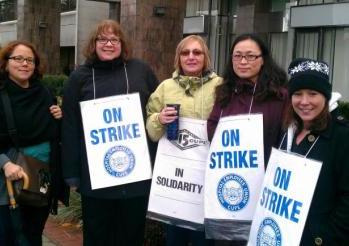 About 40 community health workers – mostly HEU members – were behind picket lines today at Richmond Health Services (8100 Granville Avenue) as negotiations between the Community Bargaining Association (CBA) and Health Employers Association of BC (HEABC) continue to be at a standstill.
The parties met in Vancouver this week, but made no progress. The employer maintains the position that an increase in wages must be accompanied by an offset found within the collective agreement.
Workers in community health are among the lowest-paid workers in the public sector, and haven't had a pay raise since 2009.
Without a contract since January, the CBA has requested additional bargaining dates with HEABC. Rotating job action began on November 8 and will continue next week.
The multi-union Community Bargaining Association represents more than 14,000 workers, including 1,500 HEU members. The majority of members are represented by BCGEU.