HEU begins negotiations with Sodexo
Bargaining bulletin
Our HEU bargaining team recently began Sodexo negotiations, with two bargaining sessions on October 24 and 25.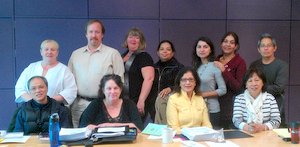 Members were present from every Sodexo certification our union represents – Vancouver Coastal Health Authority, Fraser Health Authority, Central Care Home (Victoria), Foyer Maillard (Coquitlam), German Canadian Care Home (Vancouver), Shannon Oaks & Clarendon Court (Vancouver), and Abbotsford Regional Hospital and Cancer Centre.
Our committee explained our bargaining priorities to Sodexo:
Improve the level of patient and resident care in every facility;
Ensure manageable workloads and safe worksites;
Guarantee all HEU members working for Sodexo are treated with dignity and respect;
Obtain increased job security and fair compensation for all HEU members working for Sodexo; and
No reductions to our existing rights or benefits.
We made our opening proposals and won agreement from management on a few items – an expanded assessment period for people transferring into a new position, a fairer process for distribution of overtime, and additional bereavement time for those who have to travel to attend a funeral.
Our committee is still working on economic proposals, including our proposal for fair compensation. Our next bargaining sessions are scheduled for November 19. and 20.