Sodexo bargaining focuses on respect and dignity proposals
Bargaining bulletin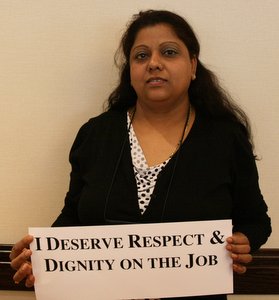 Our HEU bargaining team met with Sodexo on Nov. 19 and 20, as we continued negotiations for a new collective agreement. While progress was made, it was made very slowly according to committee members.
We spent much of our time discussing one of HEU's top priorities – the right to be treated with dignity and respect at work.
Our committee explained in detail the struggles that our members face each and every day at work. And we demanded that the employer work with us to correct these problems.
Our proposals include:
An agreement from the employer to treat everyone with dignity, respect, courtesy and trust.
A clear process to resolve harassment and bullying.
The right to a strong voice in changes to our schedules, hours, job descriptions, duties and staffing levels.
The right to meaningful input on patient/resident-care improvements.
A commitment to improved safety and a violence-free worksite.
While progress was made, much work remains to be done.
In addition to our demands for respect and dignity, our committee discussed the call-in procedure and availability requirements for casual employees, probationary periods, and stronger language guaranteeing our right to shop steward representation.