Wage Policy Conference wraps up with call to recover lost ground
Bargaining bulletin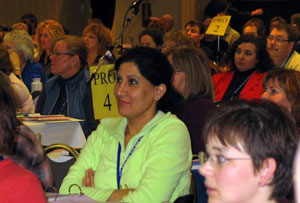 Nearly 300 representatives from Hospital Employees' Union locals around the province have wrapped up a two-day bargaining conference in Richmond determined to negotiate no-concession contracts that recover lost ground through a significant general wage increase.
Delegates to the union"s 17th Wage Policy Conference also say that new collective agreements must include fair compensation that reflect increased training and responsibilities as well as adjustments for wage rates that are out of sync with comparable jobs in the public and private sectors.
Other priorities identified by delegates include a return to the 36-hour work week - first negotiated in 1993 and stripped away by Bill 37 – and a return to pre-Bill 29 bumping and contracting out provisions.
And in response to a massive workload crisis in health and community social services, wage policy demands were adopted that include a call for action on staff/patient ratios.
Local representatives also called for in-charge pay for nursing staff, an improved trades qualification premium, a comprehensive review of benchmarks, and specific adjustments for a range of HEU job classifications based on retention and recruitment issues, increases in job responsibilities and to reflect benchmark changes.
Community health and community social service workers were supported in their demands for parity with facilities sector workers and for the implementation of the Municipal Pension Plan for community health workers.
"We've come out of our wage policy conference with clear bargaining targets, a strong bargaining committee and a united union," says HEU secretary-business manager Judy Darcy, the union's chief negotiator.
"We're ready to bargain fair and just contracts that recognize the important roles our members play delivering quality services to British Columbians."
Delegates also elected a new bargaining committee. They'll join secretary-business manager and chief bargaining spokesperson Judy Darcy, president Fred Muzin, and financial secretary Mary LaPlante at the bargaining table. Their first meeting is next week when they will put together the union's bargaining package based on wage policy demands passed by delegates.
Victor Elkins
Cardiac Perfusion Assistant
Children's and Women's
Kimberlea Stuparyk
Buyer
Prince George
Tami Broughton
Sterile Processing
Cranbrook
Carol Kenzie
Purchasing Clerk
Kelowna Amalgamated
Victor Chan
Carpenter
Vancouver General
Pat Shaw
Nursing Unit Assistant
South Peace
Chris Duckett
Plumber, Maintenance Worker
Powell River
Joanne Dickie
LPN
Lion's Gate
Jim Barrett
Elevator Mechanic
Lion's Gate
Dean Wachholz
Cook
Cowichan Valley
Five alternates were also elected:
Sandra Giesbrecht
(Royal Jubilee);
Frank McCann
(Royal Columbian);
Carol Bunch
(District 69 Home Support);
Gretchen Dulmage
(Children's & Women's); and
Shelley Becker
(Smithers).