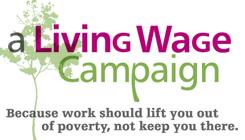 Work should lift you out of poverty, not keep you there.
But too many working families in British Columbia are living below the poverty line.
They're working harder – often holding down more than one job – and yet they're still struggling to make ends meet. It didn't help that the BC Liberals froze the minimum wage at $8 an hour for a decade. On June 1, 2019, the minimum wage in B.C. increased to $13.85 per hour. By June 1, 2021, it will increase to $15.20 per hour.
Working families need living wages to survive and prosper. A 2019 report Working for a Living Wage, released by the Canadian Centre for Policy Alternatives (CCPA), calculates Metro Vancouver's living wage at $19.50 an hour, and $15.54 an hour in the Fraser Valley. In Greater Victoria, it's $19.39 an hour. And in Prince George, it is $14.03. The calculations vary from city to city across the province. Check Living Wage for Families Campaign for cities and calculations.
That's why community groups, anti-poverty advocates and labour activists have joined together to call on governments to act now.
Because low pay hurts families, weakens our communities and undermines other workers' wages.
No full-time worker in B.C. should have to choose between sending their child on a school field trip or purchasing a bus pass, buying nutritious food or paying their hydro bill.
What is a living wage?
It's a calculation – higher than the legal minimum wage – that enables families to meet their basic daily needs, such as food and shelter. But it also allows families to fully participate in their communities, escape poverty and severe financial stress, and ensure healthy child development.
Every British Columbian deserves to earn fair, family-supporting wages with benefits in order to live with dignity, self-respect and equality.
How is the living wage calculated?
The calculation is based on a family of four – with two adults working full-time and raising two young children – and factors in how much it costs for basic expenses like housing, food, clothing, child care and transportation. And it takes into account the cost of living in specific regions of the province. The living wage is a combination of monetary (hourly wage) and non-mandatory benefits (like employer-paid MSP premiums, extended health and dental coverage) that add together to make up the living wage rate.
Our campaign for living wages
HEU launched its Living Wage Campaign in 2007 in part to address the poverty wages and unsafe working conditions for health care workers employed by multinational corporations like Aramark, Sodexo and Compass. These corporations secured multimillion dollar contracts – funded by taxpayers – to provide support services in many B.C. hospitals and long-term care homes.
But they refused to pay their workers decent wages or benefits.
Most of these workers are immigrant women struggling to raise families and pay their bills, while having to work two or more jobs.
In our campaign for living wages, many of these workers became living wage activists. And these raised awareness and built public support through presentations, petitions, letter-writing campaigns, and lobbying politicians.
They also found allies in social justice activists, women's and faith-based groups, multicultural organizations, and the labour movement.
Now we're part of a larger community-based campaign for living wages.
What's happening in B.C. today?
With a solid and growing foundation of support throughout the province, the Living Wage Campaign is receiving endorsements from several city councils and school boards.
In 2010, the City of New Westminster became the first to pass a living wage bylaw, which went into effect on January 1, 2011. Several similar initiatives are underway in cities and municipalities across the province. As of July 2019, there were eight cities or municipalities with living wage bylaws.
Many organizations and groups now acknowledge that living wages are key to addressing homelessness, poverty and other challenges in their communities. And they are working in coalition to create a strong voice in support of living wages for all.
The fight for living wages continues to be important for many health care workers. That's because B.C. government policies – especially in seniors' care homes – are driving down wages and eliminating decent family-supporting jobs. It's having a devastating impact on family incomes.
That's why HEU's Living Wage Campaign is expanding its scope to include members from private and public sector workplaces, while continuing to work with community and labour allies to advocate for living wages for all.
And the union has joined with hundreds of other organizations across the province to call for "all-party government support" for a legislated poverty-reduction plan in British Columbia.
There are currently 157 certified Living Wage employers in British Columbia, which covers more than 21,600 workers.
For more information and to take action, visit A Living Wage for Families website.