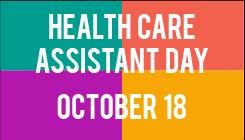 Let's honour HEU's care aides and community health workers.
Every day, these dedicated health care staff work miracles to provide quality care to the frail elderly and others who require assistance with their personal care needs.
These front line care staff assist residents, patients and clients with their most intimate care needs including toileting, bathing, dressing, eating and more.
For many, they are also like family, providing the social interaction and personal contact that is so fundamental to helping the elderly maintain their quality of life.
Unfortunately, care aides and community health workers often struggle under impossible workloads to deliver safe, compassionate care in homes, long-term care facilities and hospitals.