HEU endorses #TeamUniteCLC for the upcoming Canadian Labour Congress Convention in Vancouver!
Like all working people, our members have a lot at stake in the future direction of Canada's labour movement. We must be united across sectors and occupations, with a renewed commitment to grassroots organizing.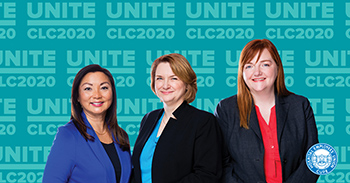 And with the workers and their unions under attack in many parts of the country, we also need a Labour Congress that will support the election of worker-friendly governments nationally and in every province and territory. We need to build the power of working people to defend our rights at work and in our communities.
These three amazing women – Bea Bruske, Siobhan Vipond and Lily Chang - have already done much for workers at every level of our union movement. We look forward to all they will do for working people at the helm of the CLC.
Sign up for campaign updates at www.teamuniteclc.ca.