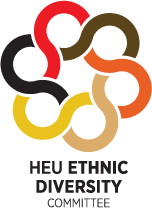 One union, many colours!
A true measure of the strength of a union is the diversity of its membership. The Committee for Ethnic Diversity has used education and action, at the workplace and within our union, to make us all aware that there is unity in diversity.
Formed in 1994 as the Visible Minorities Caucus, members decided they wanted to be more inclusive, and changed the name a year later to its current one. Members come from various ethnic, religious and cultural backgrounds.
The committee aims to break down barriers to develop a better understanding among HEU members by educating each other on the diversity of their backgrounds, and raising awareness about the physical, emotional and mental hazards of racism and discrimination.
Their educational activities include providing speakers at various local meetings, workshops and seminars, and an HEU-produced videotape on discrimination in the workplace. The committee also has a 28-page handbook One union, many colours.