The 30th HEU biennial convention took place October 30 to November 4, 2016 at the Hyatt Regency Hotel in Vancouver. The union's next convention will be held in 2018.
HEU's biennial convention is the supreme policy-making body of the union.
Held every two years, the convention brings together delegates from all locals across the province to collectively determine the union's priorities and course of direction.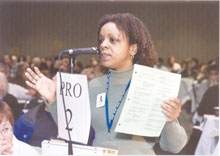 During the convention, delegates discuss and vote on resolutions and any proposed changes to the union's constitution and by-laws that have been brought forward by their locals.
Delegates also elect the union's Provincial Executive and ratify the hiring, or reappointment, of HEU's secretary-business manager.
The union holds a Facilities Bargaining Conference (formerly Wage Policy Conference) prior to the expiry of the facilities subsector collective agreement as well as other pre-bargaining conferences. Locals elect delegates to attend bargaining conferences and adopt bargaining demands that are discussed and voted on by delegates in attendance.
Delegates to the Facilities Bargaining Conference also elect a 10-person provincial bargaining committee to oversee negotiations.
Additional pre-bargaining conferences focus on occupational groups in the facilities subsector and on members working in the community health and community social services sectors. And as of convention 2010, pre-bargaining conferences are now held for members covered by independent and private subsector contracts, including Aramark, Sodexo and Compass (formerly the "Big 3"), Acciona and Marquise, as well as First Nations.