Simply Voting is a secure, confidential online election platform accessible by smartphone, tablet or computer. Nobody will ever know how you voted. 
Voting opened at 9 a.m. (Pacific Time), on Monday, March 20 and ended Monday, March 27 at 4 p.m.
About Simply Voting
Simply Voting is Canadian-based, and is used by the B.C. Labour Relations Board for certification votes, as well as many other government, labour and professional organizations.
The ballot on the website will look something like the sample below.
Image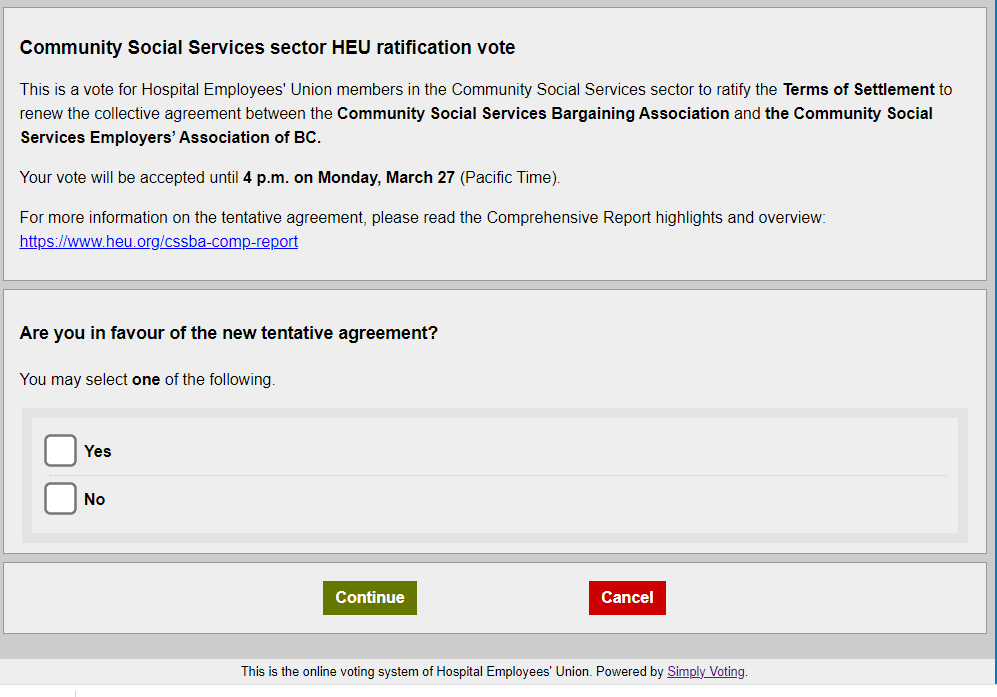 You will be asked if you are in favour of accepting the new tentative agreement. Then you will check a box to answer "yes" or "no". When you choose "continue" you will be given a chance to review your vote, and asked to confirm your choice. 
Votes are counted through the Simply Voting platform. HEU receives certified results that are not associated with any member names or identities.
Find out more about Simply Voting.
Please note that as per the Constitution and By-Laws, an HEU member who belongs to more than one HEU Local will be eligible to vote in each CSS local they are a member of. They will receive a separate email for each vote.