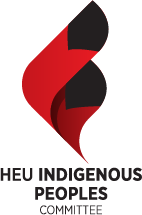 At HEU's 30th biennial convention in 2016, the First Nations Standing Committee successfully put forth a constitutional amendment to change the committee's name to the Indigenous Peoples Standing Committee to be more inclusive and accurately reflect Indigenous groups.
HEU is the union of choice for Indigenous health care workers in multiple sectors. Currently, the union represents about 200 members of the Gitxsan, Skidegate (Haida), Nisga'a and Stz'uminus nations, who are covered by seven independent contracts at seven work sites across the province.
HEU has proudly represented Indigenous members since Nisga'a and Gitxsan certified in 1997. But it's been an ongoing battle to keep unions in First Nations communities. A groundbreaking Federal Court of Appeal victory – led by HEU – in 1999 made it legal for unions to organize and certify Indigenous workers.
The committee is actively involved in a number of campaigns and events that raise awareness about Indigenous Peoples, including Orange Shirt Day, which draws attention to the atrocities of Canada's residential school system; and the Red Dress Campaign to recognize missing and murdered Indigenous women and girls.