Image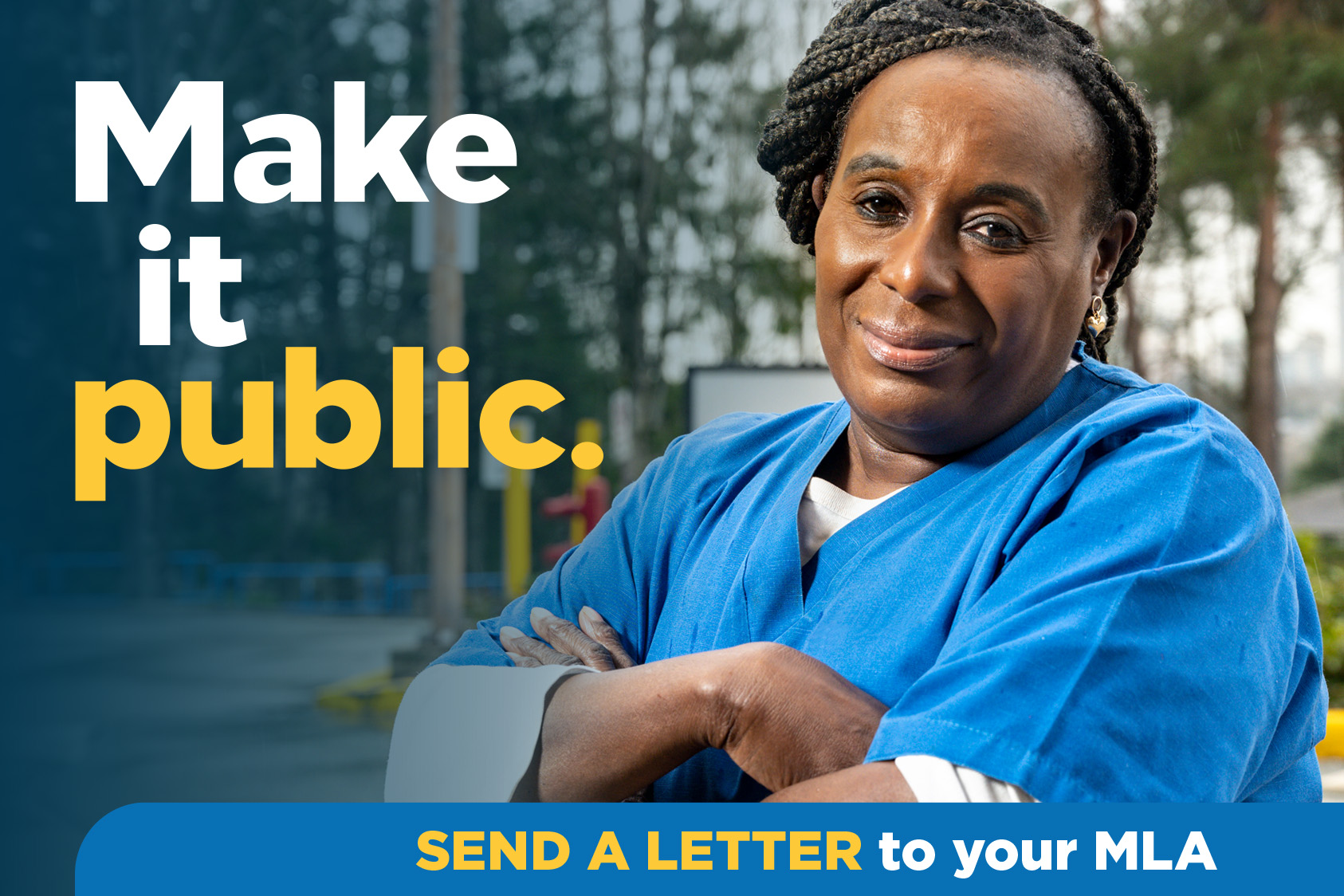 Let's get private companies out of hospitals.
July 20 is a Day of Action to reunite the health care team
On Tuesday, July 20, 2021, HEU members will be taking action to urge the government to act now and reunite the health care team.
You can get involved and show your support in the following ways:
Join one of our roadside rallies

HEU members will be gathering and holding signs at the sites listed below. Stop by and wave or honk to show your support.

Vancouver at 3:15 pm - 12th Avenue and Laurel Street (near Vancouver Hospital)
Surrey at 3:30 pm - King George Boulevard and 96th Avenue (near Surrey Memorial Hospital)
Victoria at 4:30 pm - Bellevue and Government Street (in front of the Provincial legislature)
Chilliwack at 4:00 pm - Hodgins Avenue and Yale Road (near Chilliwack General Hospital)
UBC at 2:00-2:15 pm - outside Koerner Pavilion on Wesbrook Mall (near UBC Hospital)

Make your voice heard on social media

Share pictures of the roadside rallies on your social media using #makeitpublic. And tag your MLA!
Add a Make It Public frame on your Facebook profile picture to show your solidarity online
Send a message to five of your friends and family and ask them to support public health care by sending a letter to their MLA at MakeItPublic.ca
Take a picture of yourself with one of the Make It Public signs on your union board (or found on this page) and share it! Don't forget to tag #HEU and your MLA!
This pandemic has taught us all to value what's really important.
Like public health care – and the team of frontline hospital workers across B.C.
Many of those workers keep our hospitals clean and safe, and prepare and deliver meals to patients. Cleaning and dietary staff are critical to quality health care.
 
So why are these hospital workers earning less today than 20 years ago?
For too long, these members of the health care team have been forced to work outside B.C.'s public health care system – for private corporations that profit while paying lower wages to workers. Privatization in B.C. hospitals has failed. High workloads and staff turnover undermines care and hurts front-line workers.
It's time for a change.
The B.C. government has committed to making these hospital services public and reuniting the health care team.
It's the right thing to do – for patients, for workers, for safer hospitals and better care.
But we need your help to turn the government's commitment into action. Show your support for public health care. And together, we can get private companies out of B.C. hospitals.
Support public health care, Email Your MLA
Calling all contract support service workers! We need your photos!
Help us motivate the government to move quickly to reunite the health care team!
What can you do?
Download one of these signs below
Take a picture of yourself or ask someone to take a picture of you holding the sign of your choice
Post the photo on your social media network and tag #HEU (so that we can find it) OR email it to heu@heu.org, and we'll share it on HEU's social media channels (Facebook, Instagram and Twitter).
Just remember – we still need to follow public health orders and should not gather in groups for the pictures. HEU will not be able to share group photos.
You can also download the following signs and add your own words:
Privatization has robbed me of: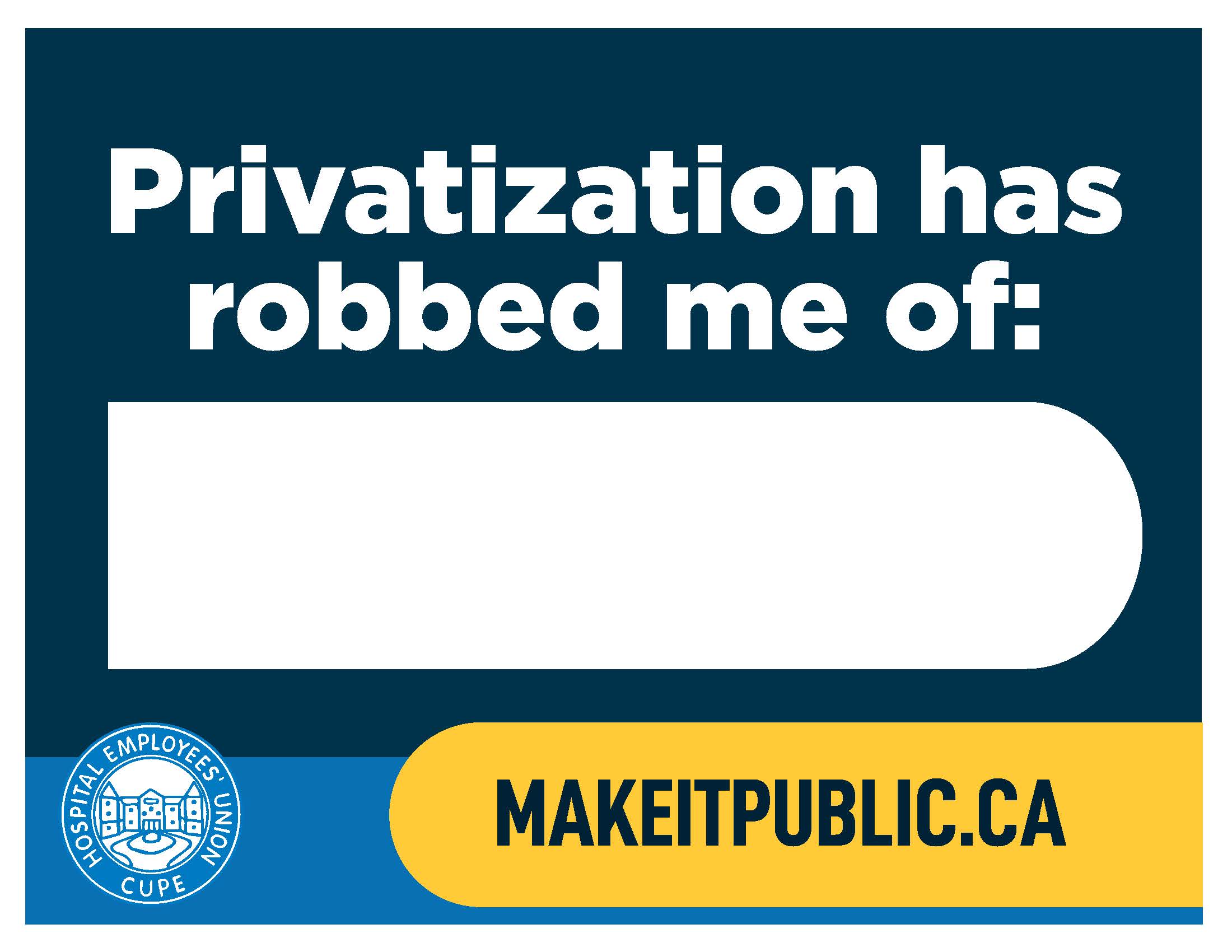 If you need help filling in the blank, here are some suggestions:
decent wages
pension
time with my family
time with my grandkids
retirement
years of my life
decent living
my health
benefits
Privatization means: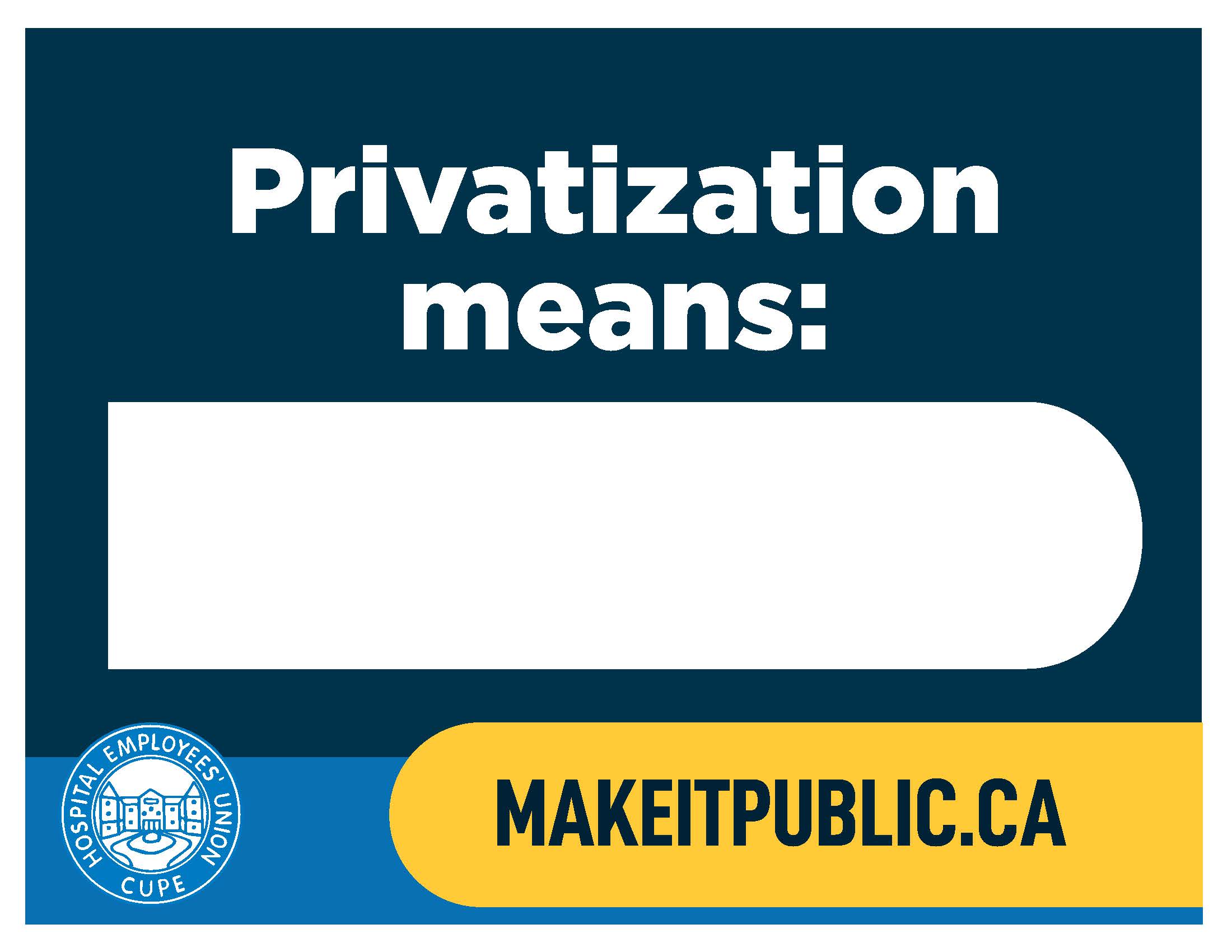 If you need help filling in the blank, here are some suggestions:
low wages
no pension
no time with my family
no retirement
I struggle to survive
injuries
no benefits
no job security
unsafe hospitals
unsafe working conditions
discrimination
a second class of worker
insufficient training
Insufficient equipment
heavy workloads
not enough staff
unfair treatment
I'm not part of the health care team