"Our goal was to explain and teach our own people our culture. Then we could teach someone else."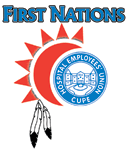 The First Nations Standing Committee seeks to educate all HEU members and raise awareness about First Nations culture and issues within the union. You can download their self-produced handbook One Union, Many Nations for resources and information. Any First Nations member (off or on reserve, status or non-status) is welcome to participate in this committee.
The committee is interested in ideas for educating our members, issues regarding land claims, spirituality, self-government and treaty negotiations, and anything important for recognition. They aim for unity and a sense of belonging in our union.
When the committee first met in April 1994, they realized that many men and women, for various reasons, grew up without an understanding of their culture. It became a goal to teach one another, and then branch out to other non-native members of HEU.
HEU represents about 170 First Nations health care staff at seven work sites across B.C., including members of the Nisga'a, Gitxsan, Gitanyow, Gitwangak, Gitanmaax, Skidegate (Haida Gwaii) and Stz'uminus nations.
As the health care services division in B.C. of CUPE National, HEU has representation on CUPE's National Aboriginal Council, a national working committee on promoting and defending the rights of Aboriginal workers.
In 1999, HEU won a decision at the Federal Court of Appeal that confirmed the right of workers to organize in First Nations health services. **
Check out these fact sheets for more information.
** In previous information, HEU said the decision was made by the Supreme Court of Canada, but it was actually at the Federal Court of Appeal level.