To get through this pandemic, we just have to be a lot more patient with each other, have a good positive attitude, and do something nice for your neighbour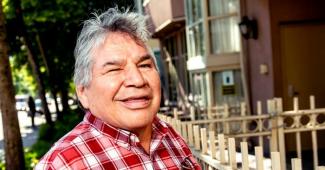 Members Stories
"My faith gives me hope. Seeing the residents each day and caring for them like family because many of them don't have family.
I've been a Mental Health Worker in Vancouver's Downtown Eastside for 28 years.
I might be assisting residents, who are able, to do their laundry or make their bed. I used to join residents for their medical appointments or other errands. But since the pandemic, my work has changed. It's more focused on helping people follow safety precautions.
For example, meals happen in several 'shifts' because the dining room can only hold limited residents at once, to make sure everyone is six feet apart. We have to keep an eye on this, as not all residents understand, so we only let four or five into the dining room at a time.
Our residents have different mental health issues and problems. The changes in the residents – the anger and the mood swings – can be hard.
I think being there for the residents is so rewarding, making sure they're clean, their hair is cut, they're bathed, and their clothes are changed.
I just cut someone's hair and shaved them before I left work yesterday. It's not a regular part of the job, but I learned how to do this. My left arm is amputated, but I want to do this. It makes residents feel better and it gives them a sense of love. Sometimes, there's lineups for my haircuts.
I want to go home feeling good, many of the residents are really grateful, especially those who don't speak. They manage to say thank you in other ways.
To get through this pandemic, we just have to be a lot more patient with each other, have a good positive attitude, and do something nice for your neighbour."
- Eric, Mental Health Worker, part of the health care team