It makes me feel happy to see families reunited in the midst of the pandemic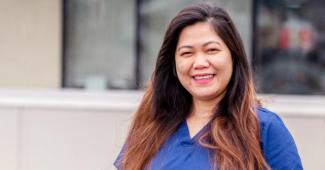 Members Stories
"I am a Food Service Worker in a long-term care home in Fort St. John. I serve meals to residents while making sure I follow food safety procedures.
Residents have started to see their loved ones in person again through scheduled visits. It makes me feel happy to see families reunited in the midst of the pandemic.
I've had to adapt to the new normal to protect not only myself, but my family and people in my workplace – especially the elderly as their health is more vulnerable.
My family is my inspiration; that's why I enjoy my job. I am also blessed that I still have a job. Many people around the world lost their job or business during the pandemic.
I have been thinking about my family back in my home country, my mom, siblings and their family and my in-laws. The number of people affected by the virus in our country has significantly increased, and it's worrying.
In Fort St. John, I have witnessed several acts of generosity in our community. Some businesses and individuals offer free groceries or meals to the elderly, healthcare workers, sick people and those who lost their job. It feels great to be a part of this community, as people here are always willing to help during challenging times.
I am proud to be a part of the health care team as we make a difference to residents and patients' lives every day."
Regina, Food Service Worker, part of the health care team