It's an opportunity for me to help and take care of people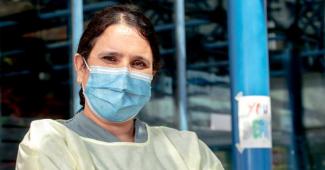 Members Stories
"We play a critical role in keeping the hospitals clean to protect patients and residents.
I work as a Housekeeper in Emergency. When rooms become empty, I work with a team to fully clean the rooms, change the sheets, and make the beds. I also work as a casual in Laundry.
I've been in this job ever since I moved here from India. I really enjoy the work because it's an opportunity for me to help and take care of people.
With COVID, we've had to add a lot more sanitizing tasks to our work. We have to get fully protected with gloves and other PPE. And when we finish a room, we have to completely change out of our PPE before moving to the next room.
We're doing our best to help stop the spread of the virus. Sometimes, I worry about how things will change as the hospital gets busier.
I worry all the time about bringing COVID home. I have two kids, aged eight and 12, at home, as well as my elderly mother. So, I have to really make sure that I shower and clean myself after a shift at the hospital.
My kids understand all of this really well. Often, they won't let me come near them until I've cleaned myself. They always say to me, 'Momma, go wash your hands before you come near us.'
I think we're all doing a great job of keeping the virus contained. I worry a little about the future as we open up. I hope we can remain vigilant to keep things under control."
- Narinder, Housekeeper/Laundry Worker, part of the health care team