As the pandemic evolves, we continue to adapt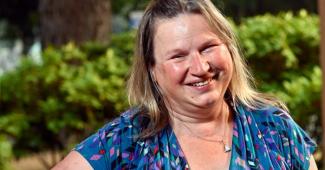 Members Stories
"Every day, there's something new in the ever-changing health care environment. I'm an activity worker in a long-term care unit that is attached to a hospital. We have direct contact with our residents, so we're screened before and after our shifts.
We maintain our distance as much as possible. We don the mask, wear eye protection and wash our hands continually during our shift, and we're always mindful of what we touch. It's really difficult to provide direct care to a resident and keep a six-foot radius.
We follow a calendar of therapeutic activities but have had to eliminate programs that include human touch, such as manicures and hand massages, to decrease the risk of spreading COVID. Our programs are in smaller groups to ensure social distancing measures. We no longer have volunteers coming in to visit the residents.
As the pandemic evolves, we continue to adapt, and we're taking on more duties. We now oversee family visits to ensure COVID protocols are followed and have implemented virtual family visits via an electronic device, such as a tablet or iPad. And we set up appointments for families who wish to visit their loved ones.
Some changes are really difficult. We are enforcing the new regulations allowing only one family member to visit in-person – which is a real struggle for the families. There is no human touch involved, which can be difficult for residents who are visually impaired or hard of hearing. They can't see or hear that their loved one is sitting across the table from them. They don't always realize that their family member is there. Some visitors will bounce or vibrate the table or yell loudly, just so their loved one knows they're there."
-Tanya, Activity Worker, part of the health care team