We play a vital role in health care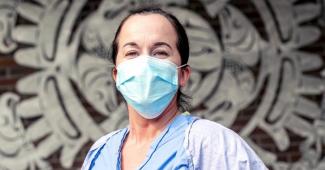 Members Stories
"I'm a single mom and when COVID started I was afraid to bring it home to my son. When I came home from work, my shoes would stay outside, all my clothes would go straight into the washing machine. I would shower and wipe down everything I touched. My son had to stay in his room until I was done.
Back in March I was in contact with a nurse who tested positive so I had to get tested as well. I was really anxious waiting until I got the test results back. It was thankfully negative.
I work in Medical Device Reprocessing (MDR) where we assemble and sterilize medical devices and instruments used during surgeries. I go to the different floors and collect any soiled equipment and instruments and bring them back to the department. We play a vital role in health care.
It's a bit different now, but we are still extremely cautious. We take extra care when we're doing our pickups, wearing PPE, mask and goggles or face shield. Now we are wearing the mask and goggles for the whole shift. We are understaffed, so that adds to the stress that already exists because of COVID.
I am trying to stay positive. I'm eating healthier, getting more exercise, reading, and taking care of my mental health.
It was really heartwarming and encouraging to see firefighters, police, and ambulance workers driving past the hospital with signs and honking to show their support.
My son plays hockey and they're back at the rink. Seeing him back doing what he loves to do, smiling and laughing makes me happy."
-Kimberley, Medical Device Reprocessing Technician, part of the health care team