Community Benefits Agreements build skills and support local communities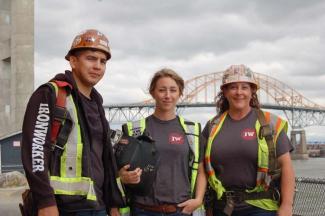 News Blog
Guest blog by Tom Sigurdson,executive director of the BC Building Trades
Meet Jasmine.
In 2010, Jasmine graduated from Simon Fraser University with a bachelor of fine arts degree and a pile of debt. It wasn't long after graduation that she learned she was expecting; she quickly realized she needed to find work that would support her and her young son and also allow her to pay off her student loans.
When she couldn't find work with her degree, she took a welding program offered by the United Association Piping Industry College of B.C. She was hired to work on the Kitimat Modernization Project before she'd even completed her pre-apprenticeship.
Jasmine had this to say about her work with KMP, which at the time was a one-of-a-kind Project Labour Agreement with 16 labour unions that prioritized commitments to local and First Nations hiring:
"I can honestly say that this job changed my life. There is an immense amount of pride in being able to work and earn a decent living for your family, to support yourself and to build your community. KMP was a phenomenal opportunity for me, a single mom."
Fast-forward to today, and Community Benefits Agreements — the new construction framework announced by the B.C. government in July — will provide these same opportunities for B.C. families like Jasmine's to thrive and prosper.
CBAs ensure public infrastructure projects like the Pattullo Bridge replacement and the widening of Highway 1 between Kamloops and the Alberta border include terms to increase the participation of underrepresented groups in the trades, such as Indigenous workers and women, the latter of whom comprise less than five per cent of the construction workforce.
CBAs also prioritize apprenticeships, which is long overdue in B.C. We only have to take a look at Site C, where less than two per cent of the 3,100 workers on site in June 2018 were apprentices, to see that this province has a problem supporting apprentices.
BuilidForce Canada, which tracks labour market data, estimates a shortfall of close to 8,000 workers in construction and maintenance alone by 2027. Only through a laser-focused effort to ensure there are real opportunities for apprentices to learn their craft on public projects can we manage this trades shortage.
The CBA framework includes a goal of 25 per cent apprentices on public projects, which was also a stated goal of the BC Liberal government back in 2015, though the Liberal regime did not come close to meeting it.
Needless to say, everyone agrees we need more apprentices on the job. But without a framework to ensure they actually get there, the rest is pointless. That's why Community Benefits Agreements are so important.
We're not alone in this assessment, either. The BC Building Trades is part of the Community Benefits Coalition of BC, which is made up of labour unions, local companies and organizations who all believe in British Columbians getting the most value out of public infrastructure projects. Visit us online at letsbuildbc.ca and join our efforts to build a better B.C. for everyone!
The BC Building Trades represents the 40,000-member unionized construction sector in B.C.