Digging deep, standing strong
Member unity delivers significant bargaining gains
News Blog
Edition
Guardian Fall/Winter 2017
by Neil Monckton
HEU members did it. Eighteen months of activism and tough bargaining in the contracted support service workers sector finally came to a successful conclusion when members ratified 11 collective agreements covering 4,000 HEU housekeepers and dietary workers in November.
"These contracts establish a new B.C.-wide industry standard across the sector, which improve members' rights and wages," says HEU secretary-business manager Jennifer Whiteside. "And on top of that, members secured a hard-won agreement between the union and the health authorities that ensures members will keep their jobs, their collective agreement and their union, when commercial contracts are re-tendered."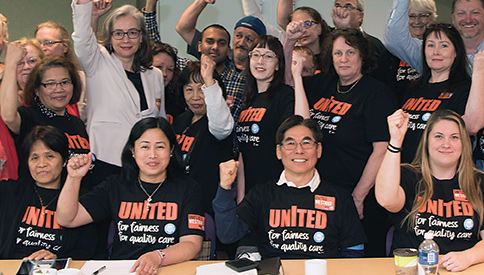 The key to their bargaining success, says Whiteside, was the onslaught of collective actions members took in support of their bargaining demands.
From last spring's petition presentations to work site managers, to taking job action in the final weeks leading to the settlements, members overcame their fears, and moved boldly forward – building on one action after the other.
It was a campaign that will be inspiring in the coming year for HEU's public sector members, as they prepare to renew their contracts in the facilities, community health and community social services sectors, she says.
"By standing together – in the workplace or on the streets – member demands for a more secure future in health care and better compensation could not be ignored by the four multinational corporations, or the health authorities that contract with them," Whiteside emphasizes.
For Maricris Avenido, who works as a housekeeper at Surrey Memorial Hospital, a key turning point happened last May when members delivered a 2,400-signature petition to managers at her site. Gathering the signatures in support of job security had been a daunting task alone, but when Avenido and her co-workers marched down the hall to the Sodexo office, en masse, in late May, it took member action at her site to a whole new level – and it worked.
"At first it was bit scary," says Avenido. "We did not know how the managers would handle it. Also, you don't know if members are going to walk with you. But in the end, there was huge support from everyone.
"Afterwards, we were happy and we felt empowered," adds Avenido. "Members now knew they could come together and overcome their differences to achieve big things."
Taking job action
Following the successful strike votes in June, member activism continued to gather momentum. By the time their job action mandate was triggered through an overtime ban in late September, members were ready to go.
"Implementing the overtime ban gave us a powerful sense of accomplishment at my hospital," says Burnaby Hospital housekeeper and Aramark bargaining team member Gwenda Alexander. "Members felt they finally had the power to say no, where before they felt they had to accommodate often unreasonable demands by management."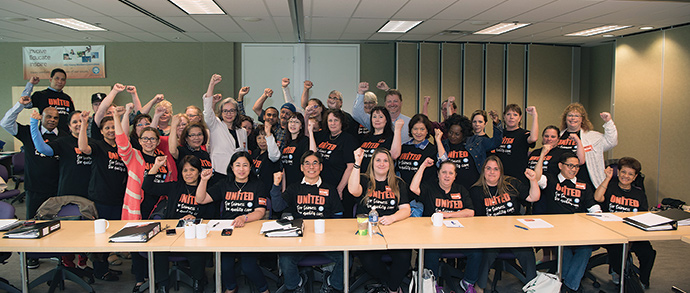 During job action, Alexander says members were eager to take part in the ban, knowing full well that managers would have to take on the overtime work members refused to do. In fact, the two biggest employers, Sodexo and Compass-Marquise, tried and failed to get the Labour Relations Board to cancel the ban.
"The overtime ban exposed the problems that comes from the employer's chronic understaffing of our work," says Alexander. "By the end of the last weekend overtime ban, we could all see how relieved managers were to get back to their own jobs."
Looking back on the last 18 months, St. Paul's Hospital housekeeper and bargaining team member Precy Miguel knows how important member unity was for bargaining – especially when it came to winning job security.
That's because in 2015, she was one of more than 900 HEU members laid off when Vancouver Coastal Health changed contractors. However, seven months after being hired back by her new employer – Compass Group Canada – at lower wages and reduced benefits, Miguel stood for election to her unit's bargaining committee.
Facing down the employer
By late May 2016, she and the rest of her eight-person team kicked off talks for the entire support service sector. Sitting with her team were more than 35 other bargainers who represented thousands of HEU housekeepers and dietary workers employed by Acciona, Aramark, Compass-Marquise and Sodexo.
This show of unity had a big impact on Miguel's employer. And it was a crucial part of HEU's negotiating strategy that put openness and transparency at the centre of everything the union did.
As members waited in their "United for Fairness" T-shirts, Compass refused to enter the room.
It was a galvanizing moment for HEU's bargaining teams.
"When our employer would not meet with us, it first made me angry. But then it made me want to fight harder," says Miguel. "As a bargainer, I feel love for my members. Thinking of all the challenges they face every day motivated me to push hard and achieve more."
Securing the deal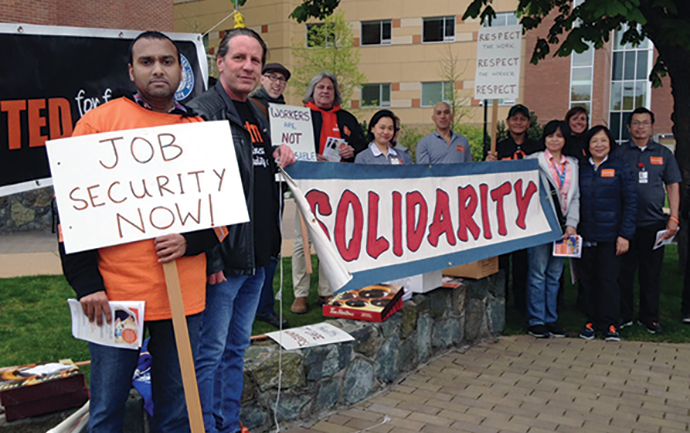 That commitment to want better for her members spurred Miguel and her bargaining team all the way. In the final days leading to a tentative deal, Compass finally agreed to a single bargaining table that included Miguel and members from all five HEU Compass-Marquise negotiating teams. The two sides hammered out five collective agreements covering 2,000 workers in less than 48 hours.
By the end of November, all support service members had achieved new settlements with all four corporate employers.
"It's taken four rounds of bargaining to get justice on job security," reflects Whiteside. "This achievement begins to turn the page on the BC Liberals' vicious attack on support service workers in health care, which began when 8,000  members were fired to make way for privatization.
"Now, with the conclusion of bargaining in this sector, we will continue to fight for dignity and fairness for HEU housekeepers and dietary workers, who are such an important part of the health care team."