HEU members mobilize for provincial election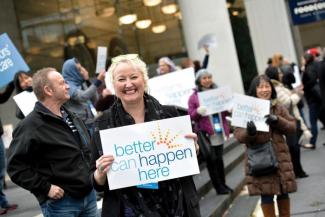 Edition
Guardian, spring 2017
By Neil Monckton
HEU members are getting involved in B.C.'s May 9 election like never before. And the timing couldn't be better.
"I want to be there to change the government," says Troy Duperreault, an HEU long-term care member in Kamloops. "And even though I'm new to politics, I am getting involved as a campaign volunteer in my constituency of Kamloops-North Thompson to support a great candidate, HEU 1st vice-president Barb Nederpel."
For HEU president Victor Elkins, seeing the level of activity among members, as British Columbians get ready to head to the polls, is heartening.
"When members realize the BC Liberals only won a majority of seats in the last election with less than 5,800 votes spread over nine MLA seats, they know they can make a difference," says Elkins.
And the message, he says, that HEU members can make a difference on Election Day is resonating across the province.
"From election training workshops to volunteering on labour canvasses in key swing seats, members are rolling up their sleeves and getting involved," says Elkins.
In early April, thousands of members also took part in a provincial telephone town hall with BC NDP John Horgan to ask him questions on a range of issues. Members wanted to hear the NDP's solutions for creating affordable housing, $10/day child care, reducing spiking hydro rates, improving public education, and tackling the many challenges they face each day under the BC Liberals' watch.
HEU member Maria Fe Infante always gets involved at election time. She'll be part of the Vancouver Fraserview NDP team, speaking to voters on behalf of former two-term Vancouver city councillor George Chow.
"Even though volunteering on an election can be demanding on your free time, I try to make myself busy so that I can share my energy, my passion and work ethic with others," says Fe Infante. "Campaigns let me do what I like to do most – and that is to help others.
"As for my faithful friends and co-workers who say they'll volunteer when I ask for help, I just try to make sure they're going to have a meaningful experience – one that will impact their lives. By talking to voters, they find they really enjoy it, plus they learn new skills and a lot about those they meet. They find out that life is really interesting."
One of the main ways for members to participate in the election is through HEU's Vote Health Care pledge campaign. Locals are hosting vote pledge events and inviting NDP candidates to speak to members at local meetings.
At the same time, dozens of members have volunteered to act as pledge captains, and are speaking to others about the upcoming election and the importance of voting.
"In the 2015 federal election, we worked hard to engage members around voting, and it paid off," says HEU financial secretary Donisa Bernardo.
 
"Not only did we see Stephen Harper's Conservatives cut down to third place in seats in B.C., but in two hotly contested seats, it was the turnout of HEU members that made a huge difference. They helped elect two more NDP MPs – Burnaby South's Kennedy Stewart and Kootenay Columbia's Wayne Stetski – to Ottawa's parliament.
"By the time members receive this issue of the Guardian, we expect even more activists will have pledged their vote for health care in this provincial election than they did in the 2015 federal election," says Bernardo.
Elkins says that when one considers HEU has more than 46,000 members living in communities across the province, the union can be a powerful force for change on May 9.
"I encourage every HEU member to get out and cast their ballot, and make it count for health care and all the public services British Columbians rely on. So many are depending on us."