HEU statement on mass grave site at Kamloops Indian Residential School
The Indian Residential School Survivors Society Emergency Crisis line can provide counselling support to survivors and others who are impacted: 1-800-721-0066.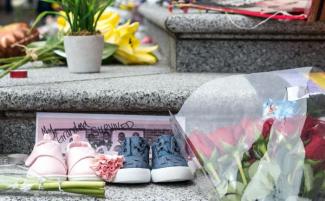 News Blog
The discovery this past week of the remains of 215 children on the site of the Kamloops Indian Residential School is deeply upsetting, and stands as a stark reminder that the residential school system was genocidal and that its impacts continue to cause deep harm through generations of Indigenous people.
We offer our deepest condolences and solidarity to survivors and their families, for whom this past week has resurfaced or triggered the trauma and pain of residential schools.
Our thoughts and hearts are also with members of the Tk'emlúps te Secwépemc First Nation, as they do the difficult but essential work of identifying lost lives on behalf of these children's families and communities.
The impacts of the horrific residential school system that forcibly removed Indigenous children from their families, communities, culture and language are still being felt today.
This is both our past and our present. This is the "truth" in Truth and Reconciliation, and we must not look away. We must listen, learn and act.
The Truth and Reconciliation Commission's (TRC) Calls to Action are necessary steps towards reconciliation, and have been endorsed by HEU and by the broader labour movement, and must be implemented.
The Calls to Action numbers 71 through 76 concern Missing Children and Burial Information.
We urge those who are non-Indigenous to take the following actions in support of residential school survivors and their families in our communities:
Learn more about the residential school system in Canada to understand how it impacted Indigenous people across the country to this day. A good starting point can be found at the National Centre for Truth and Reconciliation  (https://nctr.ca/);
If you're able, donate to the Indian Residential School Survivor Society: https://www.irsss.ca/ -- this organization is providing critical support to survivors;
Raise awareness among your social media network and in your community by wearing an orange shirt this week or changing your profile picture to orange for 215 hours (see the post on this from a young Indigenous Member of Parliament at https://www.facebook.com/Mumilaaq/);
Whenever you can, and especially at this time, centre Indigenous voices in your communities and share their stories;
As a health care worker, work to understand and address anti-Indigenous racism and discrimination in your own workplace. A good starting point is by reading "In Plain Sight" – a report authored by Dr. Mary Ellen Turpel-Lafond.
Continue to demand that government implement the TRC's Calls to Action: http://trc.ca/assets/pdf/Calls_to_Action_English2.pdf
(Photo taken outside the Vancouver Art Gallery, May 31, 2021.)