How voting looks around the world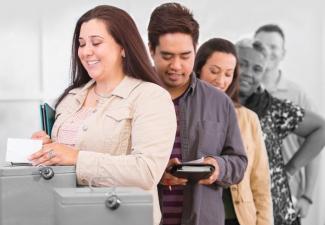 Edition
Guardian, spring 2017
By Brenda Whitehall
Voting in an election is a democratic right that citizens in most countries have fought hard to achieve. With B.C.'s provincial election on the horizon, Coffee Break looks at voting around the world.
Teens as young as 16 or 17 are eligible to vote in some countries – including Brazil, Austria, Scotland, Nicaragua, North Korea, Cuba, Germany, Argentina and Indonesia.
Women in Saudi Arabia finally gained the right to vote – and run for office – in 2015. About 1,000 Saudi Arabian women ran in the municipal elections that year – with 20 winning local council seats.
Voting is mandatory in 22 countries – including Turkey, Egypt, Singapore, Belgium, Greece, Mexico and Australia.
New Zealand was the first country to grant women's suffrage in 1893, followed by Australia in 1902. Canada ranks sixth (1917) after Finland, Norway and Denmark.
In countries like Iran, Jordan and India, citizens have their index finger inked to prove they voted.
Until 2012, Chilean men and women were segregated and had to vote in separate polling stations.
Although Britain's Royal Family is eligible to vote, it's customary for them to abstain from casting a ballot in political elections.
The May 9, 2017 provincial election is the 41st general election in B.C. Voters will elect 87 Members of the Legislative Assembly (MLAs).