Labour Day 2019 events around B.C.
Look for Labour Council Labour Day celebrations in your community.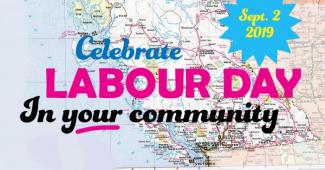 Join in upcoming Labour Day events organized by your local Labour Council on September 2nd! You're welcome to create an HEU booth, join other locals in their booths or activities or just personally attend and enjoy the fun festivities.
Campbell River, Courtenay & District Labour Day Picnic
Merville Hall, 1245 Fenwick Road, Merville B.C.
Monday, Sept. 2, 2019, 12 p.m. to 3 p.m.
 
East Kootenay District Labour Day Picnic
Rotary Park, 100 – 10th Avenue South, Cranbrook, B.C.
Monday, Sept. 2, 2019, 11 a.m. to 3 p.m.
https://www.eastkootenaylabour.ca/
Fraser Valley Labour Day Celebration
Mill Lake Park, Gladwin Road (Bevan Road entrance), Abbotsford, B.C.
Monday, Sept. 2, 2019, 11 a.m. to 3 p.m.
http://www.fraservalleylabour.ca/events
Kamloops & District  Labour Day Picnic
McDonald Park, Kamloops, B.C.
Monday, Sept. 2, 2019, 11 a.m. to 2 p.m.
https://kdlc.ca/
Nanaimo, Duncan & District Labour Day Picnic
Transfer Beach, Ladysmith, B.C.
Monday, Sept. 2, 2019, 11 a.m. to 2 p.m.
http://nddlc.org/
 
New Westminster & District Labour Day Event
Holland Park, 13428 Old Yale Road, Surrey, B.C.
Monday Sept. 2, 2019, 11:30 a.m. to 2:30 p.m
http://www.nwdlc.ca/
North Central Labour Day Picnic and Rally
Civic Plaza, Prince George, B.C.
Monday, Sept. 2, 2019, 12 p.m. to 3 p.m.
 
North Okanagan 6th Annual Labour Day Picnic
Hollywood Road Education Services Centre, 1040 Hollywood Road South, Kelowna, B.C.
Monday, Sept. 2, 2019, 12 p.m. to 3 p.m..
http://okanaganlabour.org/index.html/   
Sunshine Coast Labour Day Event
Dougall Park, Gibsons, B.C.
Monday, Sept. 2, 2019, 12 p.m. to 4 p.m.
 
Vancouver & District Labour Day Celebration
Jack Poole Plaza, 1055 Canada Place, Vancouver, B.C.
Monday, Sept. 2, 2019, 12 p.m. to 5 p.m.
http://www.vdlc.ca/events
Victoria Labour Day Event
Front lawn of the B.C. Legislature
501 Belleville Street, Victoria, B.C.
Monday, Sept. 2, 2019, 11 a.m. to 2 p.m.
http://www.victorialabour.ca/