Helping you build a better workplace

From the Guardian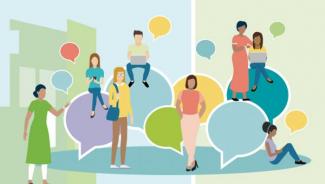 LEARNING. DISCOVERING talents you never knew you had. Opening up new horizons and opportunities. These are some of the rewards that come with education.
"Our education program is participatory, hands-on, developed from members' experiences, and built for action – it gives skills you can go back and apply right away in your workplace," says HEU Education Director Juli Rees.
And for many members HEU education helps develop both personal and professional skills that are transferrable to all parts of life – work, community and family.
Communication and advocacy, assertiveness, critical thinking, and awareness of equity issues are all central to building healthier workplaces, a stronger union and more inclusive communities.
Of course, supporting members in their roles as stewards and local union officers is a key part of the program.
Members who step up to serve are offering their time, energy and effort, Rees says. "We owe it to them to give them what they need to succeed."
HEU's broad range of courses strives to offer learning opportunities for all members who want to become active in the union at any level – from developing leadership skills, supporting equity-seeking members and training facilitators, to ensuring locals have the latest tools and knowledge to make their workplaces healthier and safer.
Benefits can be as practical as learning how to interpret the collective agreement, or as all-consuming as discovering a passion for organizing.  Whatever their motivations, members are finding new confidence, excitement in learning and a drive to share their knowledge.   
A path to confidence
Young worker Sarah Khan has been an HEU member for seven years, but only in the past year did she start getting active.
"The local wasn't strong because people weren't involved. There was a period of time I didn't think much of our union. But we just weren't using it at our local level."
Sarah is now both a shop steward and secretary of her Yuculta Lodge local in Campbell River, where she works as a care aide. In the last six months she's taken Intro to Shop Steward, Getting Involved, Table Officers' Training, and attended the Equity Conference.
 "Getting involved and making connections makes you into a more confident person," she says. "That's going to build the path."
After her local was able to address some workplace issues causing stress and mistrust, she says, average attendance at meetings has tripled.
"The only way we are going to gain control of our workplace is if we use the collective agreement and learn how to speak professionally to management," she says. "Knowledge is power."
HEU's equity education makes her proud to be a member. "We're fighting for the same purpose. We're trying to get rid of stigma and judgements, so everyone can do their job."
Lifelong learning
Rabia Mohamed has been a union activist for much of her working life. When she joined HEU as a dispatcher at Canadian Blood Services in Vancouver, it was natural to get involved.
Her years of union training and experience have delivered important skills, among them communication, teamwork, and cooperation – skills she says have great value in the workplace too. "Learning how to assemble your facts, get your position across, finding consensus, collaborating and bringing knowledge."
Rabia has attended HEU training for shop steward and OHS steward, as well as Break Open, Bust Out, a leadership workshop for women of colour, and the 2019 Equity Conference.
She would like to see HEU offer more diversity-related education. "Diversity brings value. Things you wouldn't even think about. And people are really interested, they just don't have the opportunities."
After years of work and activism, Rabia says, she is still learning, and she loves it.
"When you learn something new, it's amazing."
Teaching others
Bethany Whelan took an hour-long exercise she did while attending 2017 Fall School and turned it into an anti-harassment and anti-bullying campaign at her 100 Mile local, where she works in food services.
She and her co-worker came back from Fall School inspired. "We said, we have to do something with what we learned!"
She was especially struck by a speaker who talked about organizing grassroots leadership and campaigns. "I realized that some things that we'd done in our local to push for changes, those actually were campaigns. That's how you organize things."
The Pink Pledge Campaign born from that Fall School exercise is in its second year, and the local plans to begin work on the national mental health standard, that guides promotion of mental health and prevention of psychological harm at work.
Bethany also attended an HEU workshop on domestic violence, and has initiated a partnership between her local and her community women's centre. As a survivor of domestic violence, Bethany knows her experience with PTSD and the coping and recovery skills she's developed are life skills she can share both in her workplace and her community.
Finding your passion
Lanette Hayes, an OR Booking Clerk, has been attending HEU education events for ten years, as part of serving as shop steward and secretary-treasurer at her Langley local.
But when she began exploring issues of disability and mental health in the workplace several years ago, she realized where her greatest interest lay.
Lanette is now a steward in HEU's Enhanced Disability Management Program, helping members navigate disability claims and return to work cases.
"HEU classes are like stepping stones. Each class I took, I just wanted to learn more." She has completed a health sciences certificate through the National Institute for Disability Management and Research, and looks forward to focusing on invisible disabilities and mental health issues.
Learning in the field of mental health, she says, "is something we can use in every aspect of our personal life. It touches everybody."
An exhilarating feeling
Like many members, Ivy Eriksen, a unit clerk at the Campbell River and District General Hospital, got involved in the union to learn how to stand up for her rights. She soon realized she also wanted to stand up for the rights of her co-workers.
"Members were complaining about things and I couldn't resolve them, so I started looking for training" beginning with HEU's shop steward workshops in 2013.
"It's an exhilarating feeling to be in a meeting supporting members when you have the education to help them," she says.
After attending a Facilities Bargaining Conference, she set a goal to be on the FBA bargaining committee, and in 2018 she did it. It was an "amazing, emotional experience" she says, "and hugely rewarding."
"When I was young, I wanted to be a lawyer," she says, "and this is the closest thing."
But beyond the courses themselves, Ivy values the people she's met and the relationships that have developed. "There's some very creative people in the union, and I have learned so much from them."
by Elaine Littmann