New report points to rising distress among family caregivers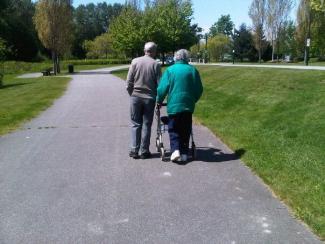 News Blog
Better access to home support hours would alleviate increasing levels of stress among family caregivers, according to a new report from the BC Seniors Advocate, Isobel Mackenzie.
The report, Caregivers in Distress: A Growing Problem, looks at family caregivers of those receiving publicly subsidized home support services. It finds that they are "experiencing symptoms of distress such as anger, depression or feelings of not being able to continue with their caregiving duties," and that these symptoms have increased by seven per cent between 2015 and 2016.  
At the same time, the number of home support clients accessing Adult Day programs fell by five per cent, as did the average number of daily home support hours per client aged 65 years or over.
"Lack of resources for home support clients comes with a high cost to unpaid family caregivers, and the situation appears to be worsening as care needs become more complex," says HEU secretary-business manager Jennifer Whiteside.
"We agree with the Seniors Advocate that more must be done to support family caregivers, and that the failure to do so will have negative impacts throughout the health care system."