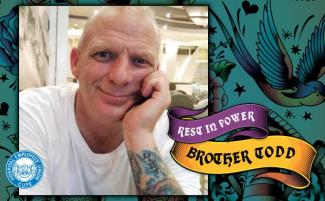 News Blog
Our big HEU family is grieving the unexpected loss this week of our Vancouver Island Regional Director Todd McAdam.
Brother Todd was a cook and a union activist at the Columbus Residence – a long-term care home in South Vancouver – from where he was recruited as an HEU servicing representative in 1999.
As an advocate for members, Todd was compassionate and effective.
He was very hands on as a Representative. Todd's philosophy was that relationships matter and he worked hard on that with members, employers and arbitrators and took the extra time needed to build those relationships.  
A big-hearted man with a booming voice and easy manner, Todd helped mentor a whole generation of shop stewards and union reps in HEU, and he took much pride in their successes.
And he valued the connection between advocacy and activism, and was at the centre of many HEU demonstrations and actions against privatization under the Campbell Liberals in the early 2000s.
Whatever it took, he was there. For example, in one well-known action, Todd set up hay bales to blockade the shipment of hospital laundry to a private company.
He worked for about ten years with members in the Fraser Health Authority region and Todd serviced almost every Local in the FHA including all the major hospitals.
After spending some time servicing on central Vancouver Island, Todd was promoted to Vancouver Island Regional Director in 2017.
Todd loved to fish – and hosted many a popular salmon BBQ for co-workers or at HEU events. He took a genuine interest in the people around him and their families.
We extend our condolences and solidarity to Brother Todd's family, co-workers and friends and to all HEU members and others who are grieving the loss of this humble, generous and committed union brother.