Testimonials from the frontline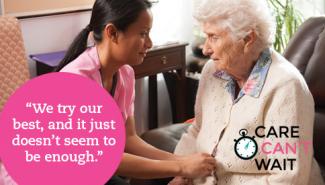 Edition
Guardian, summer 2017
By Sara Rozell
In B.C., the health sector injury rate is one-and-a-half times higher than all other workplaces combined.
In long-term care facilities, the rate is more than four times higher.
In the health care sector, care aides are injured more than any other group, making up 41 per cent of the sector's injury claims.
These statistics are daunting. But they don't show the human side of the story. As workers in health care, HEU members know exactly what those stats mean.
Over the course of the union's Care Can't Wait campaign, HEU collected hundreds of testimonials from members that show what workers face daily.
The following stories are from members working in for-profit, publicly funded, B.C. care homes that do not meet the government's own minimum staffing guidelines.
In B.C.'s heartland, understaffing has led to some care aides being subjected to violent attacks. They worry about their ability to stay safe while providing care to vulnerable seniors.
"I work in a long-term care facility and more often than not we are working short," wrote a care aide from the Interior. "There are two care aides from 7:00 a.m. to 3:00 p.m. with 15 residents, and many of them have extreme behaviours. I have been physically attacked on many occasions, and am verbally attacked daily. I hope things will change drastically for residents' sake as well as safety of staff."
The hectic pace in seniors' care homes, coupled with heavy workloads and working short, can also lead to burnout. On Vancouver Island, one member wrote about the desperation she feels every day.
"It's no wonder there are so many health care workers with work-related injuries, burnout and stress. We try our very best, and it just doesn't seem to be enough. When someone calls in sick, we end up working even shorter than we already are. We can't keep this up much longer. We need more help. That's the bottom line, especially if we are going to give the kind of care and compassion our seniors so deserve."
In the Lower Mainland, another member recently talked about what it's like to work as one of two care aides on the night shift in a three-floor, 51-person locked dementia ward.
"Even when two staff are there, it is chaos," she says. "One time, a resident didn't realize that she couldn't get to the bathroom herself, so she stood up to go, but we weren't there – we were doing a round on another floor – so she had a really bad fall. We try our best, but we cannot do it all. I leave work feeling defeated, like there is no end to this."
It's stories like these from the frontline that show how urgent the staffing crisis has become in too many of the province's care homes. Understaffing and heavy workloads put workers and the seniors they care for at risk.
"Seniors are not getting the care they deserve," says HEU secretary-business manager Jennifer Whiteside. "And workers are feeling the impact of the understaffing and underfunding crisis."
She says HEU's Care Can't Wait campaign will continue to demand action on the working conditions and caring in long-term care.
And, she says, the next phase of the campaign will also emphasize the urgent need to end contracting out and contract-flipping – where entire staff teams can be laid off in one fell swoop.
For more information or to share a testimonial, please visit www.carecantwait.ca