What can our democracy look like?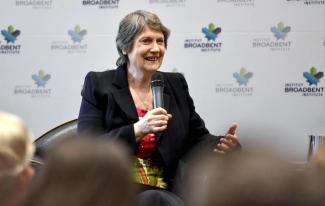 News Blog
FROM THE GUARDIAN, SUMMER 2018 ISSUE.
With a critical referendum on changing B.C.'s electoral system coming up this fall, HEU members will have an opportunity to choose a new way to vote that makes voting fairer for everyone.
It's called proportional representation, or Pro Rep.
But changing to a new system can be daunting to voters. Just ask Helen Clark, the former leader of New Zealand's Labour Party. As a young party leader in the early 1990s, Clark was asked what she thought about her country adopting a more proportional voting system. Back then, she was dead against change.
For her, Anglo-American democracies like New Zealand, Australia, Great Britain and Canada had always used the first-past-the-post system. Moving to proportional representation, or Pro Rep, where each party gets the same percentage of seats as the percentage of votes they receive, was unknown.
Plus, if New Zealand changed to Pro Rep, it would be the first Westminster-style parliamentary democracy to do so. And change, admitted Clark during her recent B.C. speaking tour sponsored by the Broadbent Institute in support of Pro Rep, is scary.
But when New Zealanders voted overwhelmingly in favour of Pro Rep in two back-to-back referendums in 1992 and 1993, Clark's party, which has similar roots in progressive politics to the BC NDP, recognized the public wanted change. And so she and her party embraced Pro Rep.
"People voted for it and we had to get on and make it work," says Clark who became New Zealand's Prime Minister in 1999, three years after the switch to Pro Rep. "And I did get on with making it work – with nine years of minority government, but very successful minority governments which got a lot done."
That New Zealanders loved their new voting system is not a surprise to Maria Dobrinskaya, Vote PR BC spokesperson.
"Pro Rep will mean government that's more accountable to voters, and MLAs who will put people ahead of party interests," says Dobrinskaya whose coalition for Pro Rep represents nearly 30 organizations, including HEU. "It also makes parties more accountable and cooperative – and that's why most democracies in the world have already switched to proportional representation."
For Clark, the need for greater cooperation by political parties under Pro Rep, and a greater role for the public between elections in terms of shaping government policy has been hugely popular in her country.
In the end, New Zealanders embraced Pro Rep as it was a system with a lot more dialogue and consultation. Voters were tired of the one-party dictatorship where the government of the day got 100 per cent of the power despite winning only 40 per cent of the vote. With Pro Rep, they felt they were no longer taken for granted.
Today, New Zealand has been joined by Australia, Wales and Scotland – countries that all moved away from the old system to more proportional voting. Even in England, there is now talk of changing to Pro Rep, when earlier this summer, a new all-party parliamentary committee was struck to look at adopting the system at all levels in the UK.
"If England embraces Pro Rep next, that will leave only Canada and the United States as the only Anglo-American democracies using the outdated, status-quo voting system," says Dobrinskaya. "But if Pro Rep passes this fall in B.C., we can help lead the way for the rest of Canada and join the majority of Western democracies that have made the move to a more fair system – one that puts people first."
By Neil Monckton