Health care workers will seek significant wage increases
News release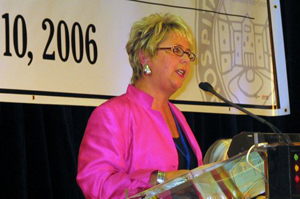 Notes for Judy Darcy's speech in Word format
The chief negotiator for the Hospital Employees' Union says her members will be looking for significant wage increases at contract talks set to begin later this month.
HEU secretary-business manager Judy Darcy made the comments this morning at the start of the union's two-day bargaining conference in Richmond.
Predicting that the days of imposed contracts are over in BC, Darcy says union members are focused on recovering lost ground at the bargaining table.
"Government restraint has hurt the workers who deliver public services in every sector," Darcy told delegates.
"But they've hurt health care workers more than anyone else."
Darcy says wage cuts are pushing her members out of health care as wages in many occupations are falling out of synch with comparable jobs in the public and private sectors.
"And that will both deprive British Columbians of the timely, quality care they deserve and put the public's investment in buildings and equipment in peril," says Darcy.
HEU's hospital and long-term care contract — covering 35,000 of its members — is the largest single collective agreement in the public sector with an expiry date of March 31, 2006. Thousands more HEU members work in the community health and community social services sectors.
In 2004, the BC government legislated a contract on HEU members that included wage rollbacks and a longer work week that amounted to a 15-per-cent cut to their hourly wage.
HEU members work in more than 300 different classifications in areas such as: nursing (licensed practical nurses and care aides); trades and maintenance: diagnostic testing; logistics and supply; cleaning and dietary; laundry; home support and group homes; patient and medical records; human resources; information systems; and many others.