HEU urges moratorium on privatization during "Conversation on Health"
65 per cent believe outcome is predetermined – poll

News release
The Hospital Employees' Union is urging the provincial government to take concrete steps that demonstrate it hasn't already determined the outcome of its year-long "Conversation on Health Care."
A poll released by the union at its convention in Richmond today indicates a high level of public skepticism about government's willingness to listen to British Columbians in the health care debate.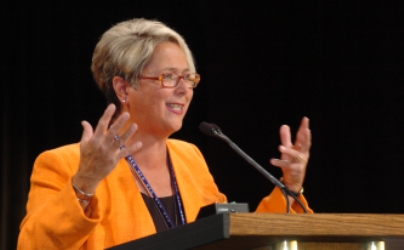 Only 23 per cent of those polled believe Premier Gordon Campbell would listen to British Columbians about ways to improve health care while 65 per cent said the premier has already made up his mind.
HEU secretary-business manager Judy Darcy told 500 convention delegates Tuesday that health care workers can offer solutions to improve health care and encouraged HEU members to participate in the government consultation.
But Darcy said she understands why many question government's claim that its only agenda is to listen to British Columbians.
"B.C. is already ground zero for health care privatization in Canada," said Darcy. "They've privatized hospital services and seniors' care further and faster than any other province. We've got more private clinics, and privately-financed hospitals and care homes are the only ones being built."
Darcy urged action by government to demonstrate its commitment to an open and transparent dialogue with the public by declaring a moratorium on any further privatization of health services and infrastructure during the 12 months of its health care conversation.
"And open up the books," added Darcy, "so that the public can have a genuine, informed debate about the future of health care in B.C.
"Disclose the full details and true costs of health privatization to date – like the contracting out of thousands of day surgeries and the privatization of hospital cleaning and patient meals."
The September 12 to 24 survey of 803 British Columbians was carried out for HEU and a number of other unions by Strategic Communications. Its margin of error is 3.5 percentage points, 19 times out of 20.
A one-page backgrounder is attached.