Throne speech – HEU welcomes legislative agenda focused on affordability, stronger public services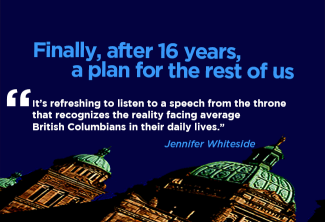 News release
Today's throne speech puts average British Columbians at the centre of an ambitious legislative plan that emphasizes affordability, stronger public services and an economy that works for everyone, says B.C.'s largest health care union.
"After 16 years, it's refreshing to listen to a speech from the throne that recognizes the reality facing average British Columbians in their daily lives," says Hospital Employees' Union secretary-business manager Jennifer Whiteside.
"By tackling the housing crisis and moving forward with a major investment in childcare, the NDP government has shifted the focus from the wealthy few to the day-to-day challenges faced by B.C. families and communities."
The throne speech acknowledges that 85 per cent of B.C.'s care homes don't meet minimum staffing guidelines.
"Our new government is delivering on a long-overdue commitment to address health care's challenges, including steps to ensure that seniors get the care they need to live with dignity and respect," says Whiteside. "We look forward to seeing the details in next week's provincial budget.
"Taking action on poverty, addressing mental health and addiction, deepening our province's commitment to the rights and needs of indigenous peoples – these are critical to building a province that works for everyone." 
HEU represents 49,000 health care and community social services workers in communities across British Columbia.