"Proud Mary" recounts union's legacy of activism

HEU's retiring financial secretary Mary LaPlante used her twelfth and final convention report to reflect on changes and common threads in the union during her 22 years of service.
She told delegates that good finances underpin the union's ability to fight for better collective agreements and stronger public health care.
During LaPlante's 22 years, membership has grown from 24,200 to 43,000 and revenue has increased from $5 million to $23 million.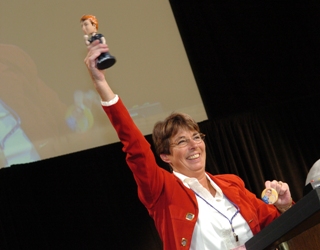 "You must continue to be vigilant and maintain a solid financial base," said LaPlante. "And we must continue to advocate for patients, residents and clients. We must be strong advocates for public health care."
And LaPlante - who held her position for more than a third of the history of the union – reminded delegates of HEU's campaigns for job security against Bennett's Bill 3, Vander Zalm's Bill 19 and Campbell's Bill 29.
LaPlante said she was proud of HEU's accomplishments over the years.
"Our union is the best and I mean it from the bottom of my heart," said LaPlante. "We are democratic and we are always working on behalf of the membership."
And it's the membership to whom she owes her biggest thanks.
"You have always been my strength. You have given me my encouragement to move forward."