AIDS Walk for Life 2007 – support HEU's team

Printer Friendly Version

The HEU Lesbian and Gay Standing Committee is organizing a team of participants for this year's AIDS WALK for LIFE – held September 23 in Vancouver.
Since 2003, HEU has raised more than $6,000 for the BC Persons with AIDS Society (BCPWA) from skydive and walkathon fundraising initiatives.
"The AIDS walk not only raises money for men, women and children living with HIV, but it also raises awareness about the disease," says HEU's team captain Thom Marshall. "HEU has always been active in supporting community events."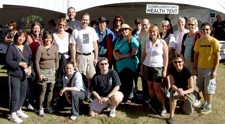 Last year's AIDS walk brought out about 25 HEU and Provincial Executive members, union staff, family and friends.
Canada has an estimated 55,000 people infected with HIV – approximately 15,000 of those live in B.C.
Proceeds from the walk also benefit other AIDS-serving organizations, including Friends for Life, Vancouver Native Health Society, Positive Women's Network, A Loving Spoonful, and YouthCo AIDS Society.
The 10 km walk around Vancouver's SeaWall begins with registration at 8:30 a.m. in Upper Ceperley Park (near Second Beach).
If you're interested in joining HEU's AIDS Walk for LIFE 2007 team, please contact Thom Marshall at thomfmarsh@shaw.ca or 604-488-9678; or visit the BCPWA website.