April 28 is the National Day of Mourning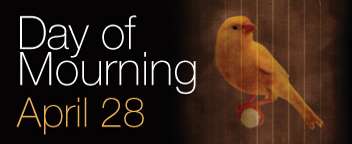 April 28 is the National Day of Mourning for Workers who have been injured or died on the job.
Workplace tragedies are much on the minds of British Columbians these days.
Earlier this week, an explosion at the Lakeland Mills mill site in Prince George killed two workers and injured 24 others. Another explosion at the Babine Forest Products sawmill in Burns Lake in January claimed the lives of two more workers and injured 19.
And let's not forget about the out-of-control injury rates in health care that make HEU members' workplaces the most dangerous in B.C. – day in and day out.
When catastrophes such as these occur, families, friends and coworkers mourn, and so do their communities.
But grief can inspire remarkable achievements.
Like Grant's Law, an initiative to increase the safety of late-night employees working alone but recently weakened to protect property and money rather than people. That fight continues.
Or the monument to the farm workers who died five years ago in a van accident to be constructed in Abbotsford.
Or, after three years, a Coroner's inquest into workers' deaths on a mushroom farm in the Fraser Valley.
Please see the list of events being held across B.C. over the next few days to honour those killed or hurt at work. Attend if you can, remember always, and enforce your occupational health and safety rights at work everyday.
"Mourn for the dead and fight like hell for the living." – Mother Jones
http://www.bcfed.com/files/1100-12lst-NH-bcdomceremonies.pdf