BC Fed delegates demand action from province on private ER
HEU leaders take their case to city hall

About 1,000 delegates to the BC Federation of Labour convention in Vancouver are demanding that the provincial government take action now to shut down private clinics operating in violation of the Canada Health Act.
The emergency resolution was in response to last week's revelation that the False Creek Surgical Centre in Vancouver is planning to open a private emergency room on December 1.
Speaking to the resolution, HEU secretary-business manager Judy Darcy told delegates that a private ER was a real threat to medicare.
"This is an outrage and we have to stop it," said Darcy.
"This is not the thin edge of the wedge. This is not the slippery slope. This is full-blown, American-style health care where the quality of your care depends on the size of your wallet."
Delegates passed the resolution unanimously.
Also Tuesday, the leadership of B.C.'s largest health care unions joined BC Federation of Labour president Jim Sinclair at Vancouver City Hall to lobby councillors to pull False Creek Surgical Centre's business license.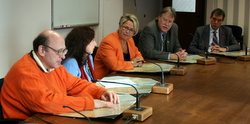 Darcy, president Fred Muzin and financial secretary Donisa Bernardo met with six city councilors before their regular Tuesday meeting.
Councillor Raymond Louie introduced a motion on the matter that will be debated by the full council on Thursday.