Care aides and community health workers press for action on standards and staffing
HEU op-ed from the October 18 Vancouver Sun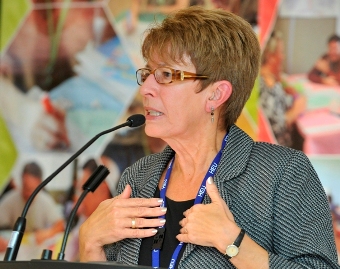 by Bonnie Pearson
October 18th is Health Care Assistant Day — a time to recognize the dedicated care aides and community health workers who provide tens of thousands of British Columbians with the support they need to stay in their own homes, or live with dignity in a long-term care facility.
These are the front-line staff who on a daily basis assist the frail elderly and others with bathing, dressing, feeding, toileting, and a host of personal and intimate care needs.
For community health workers and care aides, their work is much more than a job. It's a vocation.
Their commitment makes a huge difference to all those in their care.
As we mark Health Care Assistant Day, all British Columbians have an opportunity to join with them in demanding the tools and resources they need to provide seniors and others with safe, quality care, and by extension, a better quality of life.
And B.C. Ombudsperson Kim Carter's recent landmark investigation into the state of seniors' care made clear the time to make change is now.
A major challenge in providing quality care is that there are not enough staff to do the job.
And when staffing levels are inadequate, and care aides are struggling to cope with impossible workloads, quality of care declines.
Health care workers know this. So do seniors' advocates, family members, and anyone with a loved one who is in residential care, or who is struggling to access home support.
The link between inadequate staffing and a host of problems affecting those in care is clear.
Numerous research studies show that when there's not enough time for staff to do their jobs, residents are far more likely to suffer from falls, fractures, infections, weight loss and more frequent hospitalization. And not surprisingly, when care staff are stretched to the limit, they themselves are at far greater risk for on-the-job injuries in their already physically demanding jobs.
And because care aides and community health workers are focused on the care needs of patients, clients and residents, and contributing meaningfully to their quality of life, their jobs are both emotionally fulfilling and draining at the same time.
B.C. Ombudsperson Carter's two-part report contains more than 170 specific recommendations aimed at ensuring seniors receive the quality of care they need and deserve.
Those recommendations, if implemented, would make it possible for staff to do their jobs in a manner that best supports those in their care. And they would provide family members with a voice and the tools they need to support their loved ones.
She has recommended minimum staffing levels and direct care hours in residential care, as well as specific measurable standards for bathing, toileting, dental care and other aspects of personal support.
And she has noted the province has not acted to protect those in residential care from the impact of large-scale staff replacement, which has become endemic in residential care over the last 10 years as a result of privatization and contracting out.
And she concludes that the result is continuity of care for residents is ruptured. That's why Carter urged government and its health authorities to address the issue.
As the union representing the vast majority of health care assistants in B.C., the Hospital Employees' Union continues to press government to do what needs to be done to help our members provide better care.
Despite this, the government says it needs a two-year review period to find solutions. That's just not good enough for seniors, their families, or the workers who provide the care. The solutions are already there.
So on Health Care Assistant Day, we urge all British Columbians to tell government to make the necessary changes to provide seniors and others with safe, quality care, and by extension, a better quality of life.

Read more: http://www.vancouversun.com/health/care+aides+community+health+workers+press+action/7406314/story.html#ixzz29fUKuW1s