Celebrating 70 years at the bedside
National Nursing Week May 12-18; LPN Day May 13
It's National Nursing Week and the Hospital Employees' Union is marking our members' seven decades of delivering bedside nursing care.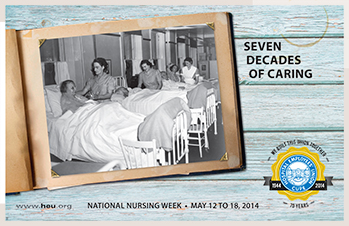 Since HEU was formed in 1944, HEU has been proud to represent members of the patient care team and to support their efforts to provide the best care possible at the bedside and on health care's front lines.
Our members deliver this care with pride and with the support of an entire team of health care workers.
And it's not without risks. Care aides and LPNs have some of the highest rates of workplace injury – including from acts of force and violence – of any job classification in B.C.  Short-staffing continues to force our members to make impossible decisions about what care needs will go unmet.
And in independent facilities, where most HEU LPNs, RNs and RPNs are employed, contracting out and contracting flipping undermine our members' ability to provide a stable caring environment for the frail elderly.
LPN Day – which is celebrated every year during National Nursing Week – is May 13.
HEU represents more than a thousand LPNs working mostly in residential care facilities across the province. LPNs have seen their responsibilities and scope of practice expand dramatically over the last decade.
As a division of the Canadian Union of Public Employees', HEU stands with tens of thousands of nurses across the country to mark National Nurses' Week. You can read CUPE's message here.