Clerical members focused on getting out their message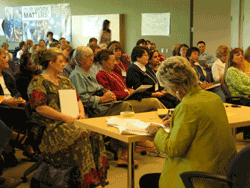 Underpaid, undervalued and overworked. That was how delegates attending the union's occupational conference for clerical staff described the impact of deteriorating working conditions on their morale.
"We play such a valuable role in health care and we don't get any respect," one delegate told the meeting. "And yet, we organize everything from paying bills on time to scheduling operations and ordering patient medications."
The September 22 and 23 forum brought together about 100 clerical workers from all regions of the province who not only addressed issues specific to their occupational family but made a clear call for unity across the union.
Bargaining priorities developed during the two-day meeting included: wages, job security (no contracting out), revised benchmarks, no concessions, and compensation for training other staff and students.
In plenary and small group discussions participants also spoke out about a variety of concerns impacting specific job areas.
Unit coordinators — who perform a key role in coordinating medical and diagnostic procedures, patient transfer and discharge, bed and surgery bookings, and a host of other services required by patients — expressed their frustration with an ongoing lack of recognition for their evolving responsibilities. (The union is currently negotiating with the employer to establish a benchmark for this job category that recognizes the level of responsibility these HEU members have in coordinating care for hospitalized patients.)
Several delegates reported an increased use of outside contractors — stemming from recruitment and retention problems — particularly in the area of medical transcription. And they pointed to the errors that result when untrained contract workers who are unfamiliar with medical terms and processes perform transcription and other medically sensitive clerical duties.
And several participants took issue with employers who are requiring full retesting for job postings, regardless of the qualifications or certificates a clerical worker already has on their personnel files.
HEU's secretary-business manager Judy Darcy emphasized the increased stress many clerical workers are under from trying to keep units running smoothly through nursing shortages, bed shortages, high turnover of patients, badly managed privatized support services and constant organizational changes.
By the end of the meeting, the group was united in its goal to make sure politicians, managers, and other members of the health care team understand the knowledge clerical workers bring to their jobs, the skill-sets that are required to manage a wide range of competing priorities, and the pivotal role they play in meeting the needs of patients and other staff.
Attending delegates will report back to their peers at the local level. Bargaining priorities developed during the conferences will go back to union locals, who will bring recommendations forward to HEU's Wage Policy Conference on January 9 and 10, 2006.
Clerical work in health care includes numerous job classifications. Some examples are: include financial and secretarial staff, admitting and OR booking clerks, switchboard operators, medical transcriptionists, medical records clerks, staffing clerks and unit coordinators.