Community health sector conference calls for more resources, greater respect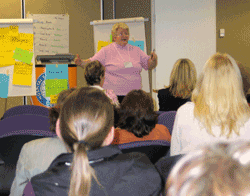 About 40 HEU members from the community health sector met in Vancouver on October 12 and 13 to develop bargaining priorities, elect a bargaining committee, and discuss issues related to the challenging and often unrecognized work they do.
Workers in this sector perform a wide range of jobs related to providing support to some of BC's most vulnerable and marginalized citizens: people with mental illness, anxiety disorders, and acquired brain injuries; individuals coping with drug and alcohol addictions; seniors with complicated dementia; patients transferred from hospitals, jails and mental institutions; and clients with other physical and mental diagnoses.
They work with people of all ages — from youth to seniors — in group homes, residential community living homes, supported employment programs, clinics, private homes, adult day programs and mental health drop-in centres.
As one rehab support worker explained, "We take care of the people society would like to forget about."
During the two-day forum delegates raised a long list of issues including: the far-reaching impact of cutbacks; ever-changing job descriptions that have broadened their scope of duties; short-staffing; program and facility closures; and workers' safety.
Many community health workers are exposed to dangerous situations and infectious diseases on a regular basis and are dealing with clients with higher acuity levels, dual or multiple diagnoses, and violent behaviours.
Bargaining priorities identified by delegates include wages and comparability, health and welfare benefits, vehicle allowances and mileage increases, and pensions.
A common theme voiced throughout the conference was the need for government to increase community health resources, not only because the sector provides clients with more appropriate and effective support than institutional settings, but because it's a cost effective approach that frees up taxpayer dollars for other areas of health care.
HEU's secretary-business manager Judy Darcy congratulated delegates for the passion and humanity they bring to their work, despite government's short-sighted four per cent wage roll backs and the elimination of the comparability and standardization of wage and benefit levels agreement in the last round of bargaining.
"It's no wonder that many workers in this sector feel a complete lack of recognition for the skills and educational levels they bring to the job," she said.
The new community health bargaining committee is Graham O'Neill, Lou Black and Marci Fisk. Alternates are Carol Spicer and Mike Beaney.
Community health workers are represented by two different bargaining associations: the community health bargaining association and the paramedical professional bargaining association.