Concern over North Island P3 hospital plan draws big crowds

Two public forums on the Vancouver Island Health Authority's decision to build one regional hospital to serve more than 140,000 people living on the north Island, drew crowds of more than 250 concerned citizens at each in Campbell River and Courtenay on April 18 and 19.
Sponsored by the Citizens for Quality Health Care, a panel of five speakers offered several perspectives that challenge the health authority's "one hospital" plan.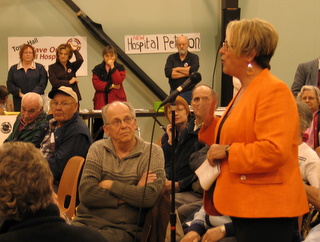 Dr. Trina Larsen Soles, a resident of Golden and past president of the Society of Rural Physicians of Canada talked about regionalization and consolidation of health services, saying that there must be "equity of access" for rural communities.
Larsen Soles noted that regions are very different depending on population, geography, industry and more - and that everything must be carefully considered before a health authority makes a decision that will affect not only people but the viability of communities.
"You need a facility and a system that suits your needs," Larsen Soles told the Campbell River audience.
Wayne Bradley of the BC Sustainable Energy Association said that VIHA's plan "is as much a real estate development proposal as it is a hospital proposal."
Bradley is also a Merville resident. The Dove Creek acreage that Timberwest wants to donate to the health authority is in the Merville area where there are currently no infrastructure systems including sewage, water and transit service.
Summing up the feelings of many Campbell River and Comox Valley residents, Bradley said, "We're not okay with our communities losing their hospitals."
And Richard Neal of the BC Health Coalition told the audience that a new regional hospital would most certainly be a public-private partnership (P3) since it is B.C. government policy that all new infrastructure projects over $20M should be P3s.
"There is no verifiable evidence, anywhere, of a viable business case for P3s," Neal added. "Public-private partnerships make money for the private consortium partners, but they are more expensive for taxpayers and patients."
A new petition from the Citizens for Quality Health Care calls on the government to ensure that fully functioning acute care hospitals will remain in Campbell River and the Comox Valley, that VIHA provide adequate funds to upgrade and expand the two existing hospitals, and that the hospitals remain publicly funded, and the services and care, publicly delivered.
Without a formal launch, the citizens' group has gathered more than 1,000 signatures over the past week.
Contact the Citizens for Quality Health Care by email at surfdust@telus.net, or by phone in Campbell River at 250-287-3096 and in Courtenay at 250-338-4067, for more information about the campaign to keep and expand St. Joseph's Hospital and Campbell River General Hospital, or to get copies of the petition.