CUPE endorses Oct 28 protest against war in Afghanistan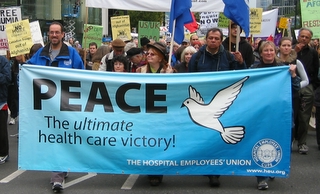 CUPE President Paul Moist urged members to get involved in the Oct. 28 Troops out of Afghanistan day of action.
The day, organized by the Canadian Peace Alliance, will have rallies across the country.
CUPE endorses the Canadian Labor Congress's position on Afghanistan, Moist pointed out, noting that the National Executive Board had discussed the issue at its September 2006 meeting.
"The best way we can support our troops is to bring them home," Moist said. "The federal government is way out of touch with public opinion on this issue. The October 28 rallies will make them listen."