CUPE in solidarity on National Aboriginal Day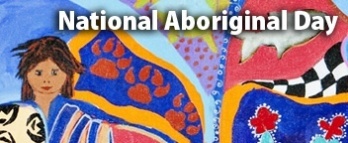 CUPE newsletter: CUPE is proud to celebrate National Aboriginal Day on June 21 with our Aboriginal brothers and sisters across the country. The important date celebrates the cultures and contributions of First Nations, Inuit and Métis peoples.
CUPE has worked hard to build and strengthen relationships with Aboriginal communities. Some of the highlights of our ongoing work include:
While June 21 is a day of celebration, it is important to note that Aboriginal communities face enormous challenges while the Harper Conservative government continues to look the other way.
In a letter to all CUPE organizations, National President Paul Moist and National Secretary-Treasurer Claude Généreux describe the dismal record of inaction from the Harper government, including:
Putting a stop to the Kelowna Accord which represented a national consensus to end the persistence of poverty and shameful conditions of overcrowding, unsafe housing, crumbling infrastructure, and lack of access to safe, clean drinking water for Aboriginal peoples.
Lack of meaningful action to deal with the crisis of no access to clean water for many of Canada's First Nations communities.
Ignoring pleas to change the formula for funding First Nations schools, which are at a severe disadvantage when compared to other schools in the country.
Continuing to discriminate against First nations children by providing less child welfare benefits to those children living on reserves than to those living off reserves.
Moist and Généreux state that "CUPE National reaffirms its commitment to fight for equality, justice, full inclusion and the right to self-government for all Aboriginal peoples and we encourage all members to celebrate National Aboriginal Day on June 21 and participate in other activities during that week."
Contact your regional office for information on events taking place in your community, then get out and show your support on National Aboriginal Day! 
Read the letter from Moist and Généreux on National Aboriginal Day.