Depression. Anxiety. Burnout.
Your right to a psychologically safe workplace
In this excerpt from the Spring 2011 issue of the Hospital Employees' Union newspaper, The Guardian, Margi Blamey takes an up-close look at the warning signs of a psychologically unsafe workplace, the costs to workers and employers, and what health care workers can do to address the problem. 
The Guardian will be in members' mailboxes starting the second week of May.
When people think about occupational health and safety, the first things that come to mind are usually associated with physical injury or illness. But recent and growing evidence shows emotional and mental health disorders are now the leading cause of absenteeism in the workplace.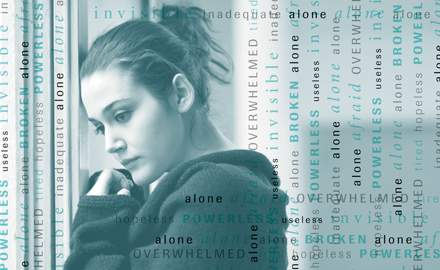 In health care, where injuries due to slips, trips and lifts – and more recently violence in the workplace – have been the focus for many years, sick leave and disability claims are demonstrating how the increasing demands of the job are taking a toll on workers' mental health.
For health care workers, the main causes are out-of-control workloads due to the chronic practice of short-staffing, years of budget cuts, and the more complex care needs of patients and long-term care residents.
And the effects of depression, anxiety and burnout don't stop at the workplace.
The repercussions of these and other mental health conditions reach beyond the job and impact workers' personal well-being, their families and their communities.
Union members ahead of the curve

HEU members have long recognized the pressures of working in health care and community social services, and the need to address those pressures in order to prevent emotional and psychological distress.
That's why, when HEU bargaining committees go to the negotiation table – public or private sector, large or small employer – they work hard to win rights and protections that contribute to a healthy workplace and healthy work-life balance.
Those include: occupational health and safety provisions, shift scheduling and rotations, employee and family assistance programs, health benefits, long-term disability, sick leave and special leave, and more.
"Rolling back benefits and working conditions is a common theme with employers these days," says HEU secretary-business manager Judy Darcy. "But good mental health is key to a healthy workplace. Employers ignore this fact at their peril.
"In spite of all the solid research and evidence available today," she says, "We're still experiencing a head-in-the-sand response to this well-documented problem from most health employers.
"In the last two rounds of bargaining for the facilities sub-sector collective agreement, health employers were determined to reduce our benefits. We pushed back, held our ground and even made improvements, particularly around work-life balance issues.
"In community social services, a sector where stress is high and staff recruitment and retention is a serious problem, sick time and benefits were reduced in 2004 and have yet to be recovered.
"And employer demands to cut benefits repeatedly occurs in negotiations for independent collective agreements with de-accredited residential care facility owners and private contractors across the province," says Darcy.
Employers are slow to act
Absenteeism due to unresolved psychological conditions has become a major concern for employers. Whether workers are off for a few days at a time or longer periods, the costs to health benefits and disability plans are going up.
And there are related human resources costs. If absent personnel are not replaced, workload increases for their coworkers. This can lead to reduced productivity, poor morale – and in turn, more absenteeism.
In B.C., where health authorities wrestle with provincial government-imposed budgets, many managers and senior officials are focusing on getting employees back to work quickly rather than preventing an absence in the first place.
Health employers are turning to rapid return-to-work programs and more punitive measures like a doctor's note for one day of sick leave, to address absenteeism instead of vigorously implementing mental health promotion and prevention initiatives. And while high demands and heavy workloads in all areas of health care may be acknowledged, little is being done to relieve this.
Ana Rahmat, HEU's occupational health and safety officer, says that employers talk a good talk about mental health issues but falter when it comes to walking the walk.
"Unions, employers, mental health experts all agree that the number of workers affected by depression, anxiety and other psychological or emotional conditions is growing, and that this is taking a toll in our workplaces," she says.
"But when it comes to being pro-active and addressing the problem by offering real mental health promotion and prevention programs, employers are slow to act," says Rahmat.
Refusing to address mental health issues upfront is no longer an option, it's an organizational imperative. In fact, this has become so important that a new phrase has entered the occupational health and safety vocabulary – the psychologically safe workplace.  
The psychologically safe workplace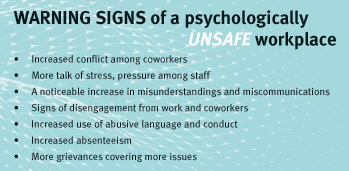 According to the Canadian Centre for Occupational Health and Safety (CCOHS), creating a psychologically safe workplace involves both the culture of an organization and the organization of the work.
Organizational culture includes the attitudes, values and beliefs displayed by everyone in the workplace. It comes down to how we treat each other and the value placed on our work. It encompasses respect, fairness, civility, honesty, trust, appreciation and work-life balance. 
The organization of work is about the way work is designed and managed. This includes workload, control over our work, our ability to participate in decisions, clarity of roles and expectations, the quality and quantity of communication, and ready access to the necessary support and resources.
When these factors are non-existent or poorly handled, they become sources of stress/distress and negatively impact workers' mental health.
At work, there are specific things that HEU members can do to ensure better mental health and well-being, including staying home when sick and taking vacations.
Take it personally
Mental health has become a hot topic for organizations, but for an individual, it's still a very personal thing – and with good reason.
Despite all the good information on mental health that is widely available these days, many people do not want others to know about their state of mind.
Former talk show host and politician Rafe Mair put it this way in an October 2009 Tyee article when discussing his own depression.
"In British Columbia there are thousands, like me, but remain untreated for one reason – the horrid stigma that society attaches to mental illness keeps them from seeking help. One's afraid to tell one's partner, one's friends, and one's employer... I "came out" by accident when taking a call on my show about 15 years ago. As the caller spoke I found myself telling him that he could take it from me, a mental health consumer, that there was help; that he must see his doctor," wrote Mair.
Mair is not the only high profile individual to go public with his story. Other well-known Canadians who have sought help to restore their mental health are Margaret Trudeau, one of the first to reveal her battle with bipolar disorder and depression; retired general and now senator Romeo Dallaire, after serving as commander of the U.N. peacekeeping force in Rwanda in 1993-1994; actor Margot Kidder; Toronto Maple Leafs' hockey great Ron Ellis; and CBC radio broadcaster Shelagh Rogers.
Darcy says that employees need to know that if their mental health is at risk, they are not alone and that it's not their fault.
"Workers deserve all the support possible when they are recovering their physical or emotional health and well-being," she says.
"A psychologically safe workplace is a holistically healthy environment that assists and welcomes employees to return to work as much as it promotes prevention and awareness." 
Resources
The Workplace Anti-Stress Guide, Hospital Employees' Union, 2000. For copies, please contact HEU's research department in the Provincial Office at 1-800-663-5813 toll free or 604-438-5000 in the Lower Mainland.
Canadian Centre for Occupational Health and Safety, for online information, resources and more on the psychologically safe workplace and work/life balance.
Canadian Mental Health Association, British Columbia Division.
Canadian Alliance on Mental Health and Mental Illness.
Tracking the Perfect Legal Storm, An update to Stress, Mental Injury and the Law in Canada 2009 by Martin Shain.