HEU's community health team united for 2012 contract negotiations
Nearly 30 HEU delegates from B.C.'s community health sector gathered at the union's Provincial Office on December 1 and 2 to debate and prioritize bargaining demands submitted by locals across the province and to elect their 2012 bargaining committee representatives.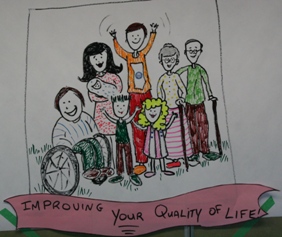 During the two-day conference, members spoke about their work, their challenges and their contribution to the health care team. Some of their workplace challenges include: workload, working alone, broad job descriptions, clients with higher acuity levels and multiple diagnoses, lack of access to training on mental health and OH&S issues, exposure to infectious diseases and violence. And one of their biggest frustrations is the public's lack of understanding about the jobs they perform in the community.
 "We love what we do," said one delegate. "We all have very different jobs, but there's a real passion to provide quality health care and a clear love for our communities."
 In her bargaining address, HEU secretary-business manager Bonnie Pearson spoke about the economic and political climate, both provincially and globally, and the disturbing trend of right-wing governments attacking public sector unions, workers and services. 
"The Occupy Movement – whether you agree with how they have organized themselves or not – has put economic inequity in the public eye. I think we've been quiet – as a labour movement – for too long. We haven't seen anything like Occupy in decades, and we need to continue to support that movement." 
Pearson also confirmed HEU's commitment to CUPE National's campaign to raise the profile of community health workers across the country. "Home support and community support have a critical role in the public health care system. Thank you for all of the work that you do while facing so many obstacles. I want you to know that you have the full support of your union."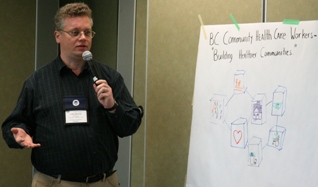 Delegates also participated in a brainstorming session on messaging and effective ways to advocate bargaining demand support from peers, politicians, families and the public. 
Community health bargaining committee representatives were also elected during the conference. They are: Janine Migneault (Team Clerk, Community Services 1998 local) and Yvette Hayhoe (Program Assistant, Richmond local) along with alternates Paul Michaels (Community Mental Health Worker, Pioneer Cresst) and Harold Burns (Rehab Worker/Care Aide, South Okanagan).
They will be joined at the bargaining table by HEU servicing representative Ronnie Nicolasora and members from the other unions in the Community Health Bargaining Association. 
Led by the B.C. Government and Service Employees' Union (BCGEU), the community health collective agreement, which expires on March 31, 2012, covers about 14,000 health care workers in the sector, including 1,400 HEU members.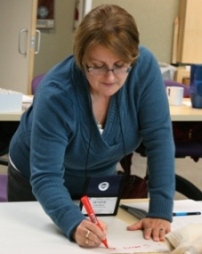 BCGEU president Darryl Walker and Health Sciences Association (HSA) membership services coordinator of bargaining Dawn Adamson both brought solidarity greetings, as they acknowledged the tough round of negotiations ahead for public sector unions. 
"BCGEU and HEU both know how to be a union and represent our members," said Walker. "We need to stand together. When I say 'we', I mean all of the unions in the public sector have to work together… BCGEU will stand behind what your members need in this sector. We will respect everybody as we work together through this round of bargaining." 
Echoing Walker's unity commitment, Adamson told delegates, "HSA considers you a close sister union. We're going to need each other in this round of bargaining and send a strong message to government that we deserve higher wages and we'll fight side-by-side together to get them." 
In her closing remarks, HEU's financial secretary Donisa Bernardo said, "I like what one group said yesterday that 'aging or illness is not a choice, but caring is.' And you – as frontline community health workers – exemplify that. You clearly are dedicated and compassionate caregivers. We will work together to educate the public about the valuable work you do. We will continue to advocate for safer and better working conditions for you. And we will fight for the best collective agreement we can get in the next round of bargaining." 
Conference attendees included care aides, LPNs, assisted living workers, recreation therapists, community mental health workers; program support, home care and community health workers, team (scheduling and payroll) clerks; community transition, activity, community care and rehabilitation support workers, lifeskills support, housekeeping supervisors and program assistants.