HEU's Living Wage Tree of Hope spreads anti-poverty message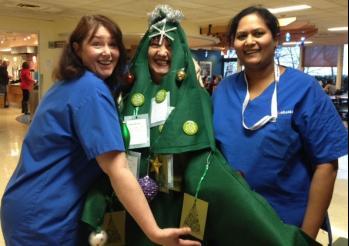 Despite a snowstorm sweeping across the Lower Mainland, HEU's second annual "live" Living Wage Tree of Hope delivered festive messages to Burnaby and Royal Columbian hospitals on December 19, while educating the public about the union's anti-poverty campaign.
The "Tree of Hope" project's goal is to engage HEU members, do public outreach around the Living Wage Campaign, and also share the holiday spirit with candy canes, stickers and temporary tattoos.
Staff and visitors wrote messages about what a living wage means to them, and then pinned them onto the "live" tree (HEU Vancouver Coastal regional vice-president Louella Vincent in costume). Check out our photo gallery.
"Even though it was snowing, a lot of people showed up to support our Tree of Hope," said event organizer Priti Shah, a living wage outreach worker. "It's always fun to deliver our Living Wage Campaign message in creative ways to inspire dialogue. When people see a living tree walk by them in a hospital hallway, they want to know what's going on."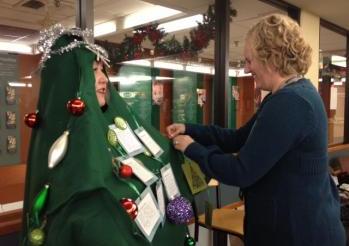 Last year, the "live" tree was a big hit at Surrey Memorial, Vancouver General, Lions Gate and Children's and Women's hospitals.
The HEU Living Wage Campaign started in 2007 as a bargaining tool to advocate for family-supporting wages and safer working conditions for the union's contracted support workers. It has since grown into an anti-poverty, community campaign with allies across the province and country.
For more information on the community Living Wage Campaign, visit A Living Wage for Families.
(Note: scheduled visits to St. Paul's and Richmond hospitals on December 18 were cancelled due to the snow)