HEU campaigns take home five national awards
Annual Canadian Association of Labour Media (CALM) conference recognizes achievements from across Canada

Printer Friendly Version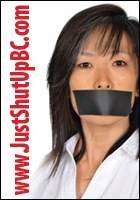 Two of HEU's prominent communications initiatives from the past year – the Living Wage and Just Shut Up BC campaigns – took top honours at the annual Canadian Association of Labour Media (CALM) conference this weekend.
The Just Shut Up BC campaign, launched in response to the Liberals' election gag law, received the Muckraking Award for a communications initiative that exposes an anti-union or anti-social practice.
The Living Wage campaign received three awards for Best Moving Billboard, Breakin

g Barriers and Best Public Audio-Visual Presentation.

CALM judges recognized the campaign for the quality of its overall design and message, the impact of the video series that profiled members' stories, as well as the campaign's role in tackling discrimination and enhancing members' participation in the union.
The fifth award went to the Bob Krieger cartoon commissioned by HEU as a gift to past and present NDP MLAs Joy MacPhail and Jenny Kwan, in honour of their contributions to the fight against Bill 29 and their legislative work during the Liberals' first term in office.